EXCLUSIVE: Sarah Silverman, Bill Hader and Other Celebs Coming to a Chipotle Near You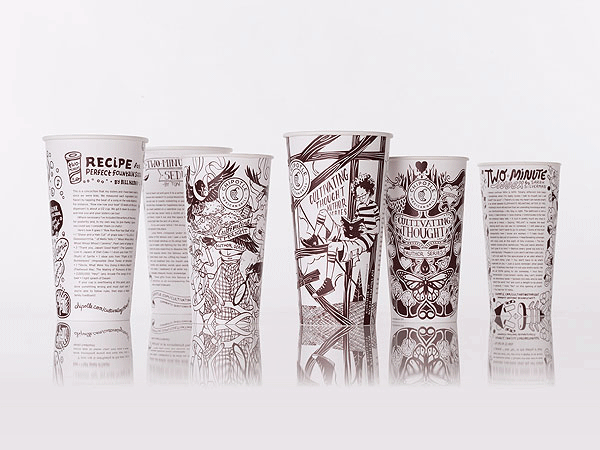 Courtesy Chipotle
Using paper products and prose, Chipotle, the fast-casual burrito brand famous for their un-branded advertising, has come up with a new way to entertain customers.

Novelist Jonathan Safran Foer, author of Everything Is Illuminated and Extremely Loud & Incredibly Close, tapped 10 celebrity authors, comedians and thought-leaders — including comedian Sarah Silverman, director Judd Apatow and SNL star Bill Hader — to write short pieces that will be printed on paper cups and excerpted on takeout bags. The stories are paired with intricate, line-drawn graphics that echo themes in each story.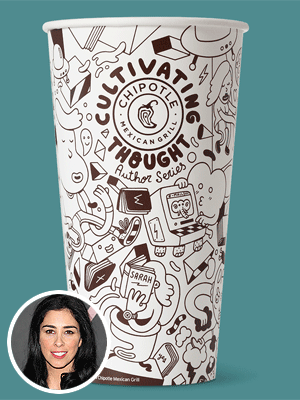 Inset: JB Lacroix/Wireimage
PEOPLE got an exclusive preview of the celeb-themed cups in the "Cultivating Thought" collection, which will certainly provide a fun diversion if your lunch date's conversation isn't cutting it.
Silverman's "Two-Minute Index" is written in her signature acerbic style and is basically a series of indictments and musings such as "People in cults don't call their cults cults," "I hate drama = I love drama" and "Vote 'No' on this spelling of Geoff." (Click HERE to read Silverman's entire story.)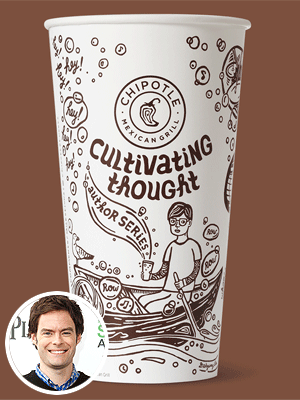 Inset: Jeff Vespa/Wireimage
Customers who remember the thrill of getting to fill up their own fast-food drink cups as kids (who ever stuck to just one kind?) will love Hader's "Two-Minute Recipe for the Perfect Fountain Drink," a remembrance of singing songs with his sisters as they mixed and matched different sodas. (Click HERE to read Hader's entire "recipe.")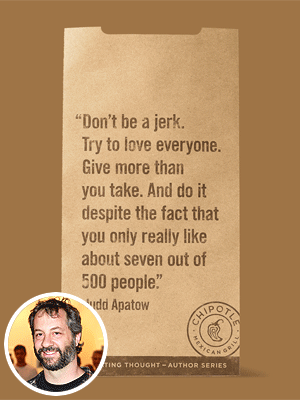 Inset:David Buchan/Getty
And Apatow's message, "Two Minutes of Rambling Wisdom," has more of an advice-column vibe. The director first talks about his acceptance of the fact that not everyone will like his work: "I think it is okay to accept the fact that most people won't get you."
He also gives the reader a window into his own moral philosophy. "Every day I live by only one rule, be a good guy. I am proud of the fact that for the most part I have tried to make the world a better place in small and large ways. I am even more proud of the fact that for the most part I have not ruined the world," Apatow writes. (Click HERE to read all of Apatow's "wisdom".)
As with their recent Hulu web series, Chipotle is barely mentioned by name with the exception of one quick reference in Apatow's piece.
Under the broad theme of making "people more curious about where their food comes from and how it is prepared" Chipotle communications director Chris Arnold says the company "wanted to produce content that would entertain, make people curious and give them something thoughtful to read."
The new cups and bags are arriving in restaurants now.
—Lexi Dwyer