Calling All Kids to the Kitchen: Make Jamie Oliver's Rainbow Salad Wrap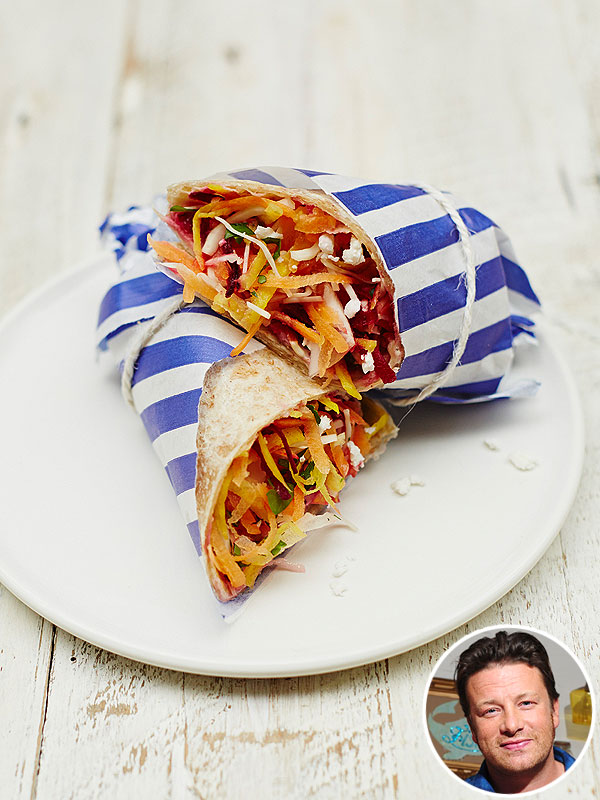 Matt Russell; Inset: Ian West/Abaca
Finally, a reason you'll want your child to pick up that iPad — to look up this colorful wrap recipe from Jamie Oliver.

On May 16, his third annual Food Revolution Day, the British chef and TV star wants to get your kids excited about healthy cooking.
The day is born out of some scary stats: "Worldwide, there are already more than 43 million children under the age of five who are either overweight or obese," states Food Revolution's website. "If this continues, the figure will rise to nearly 60 million by 2020." By teaching kids about nutrition and the joys of making dinner, Oliver hopes to bring that number way down.
So, the goal for today: Get into the kitchen as a family and work together to make something nutritious, like this rainbow salad wrap. Kids will love the bright colors of the beets and carrots, and parents, you'll love how it's a meal chock full of fruits and veggies.
And something you can all agree on: It's fun to cook together!
Share a snap of your salad wrap on social media with the hashtag #FRD2014 — and tag PEOPLE Great Ideas on Facebook or Twitter so we can see your cooking creation, too.
Jamie Oliver's Rainbow Salad Wrap
Makes 6
2 small raw beets, different colors if possible
2 carrots
6 oz. green cabbage
1 firm pear
¼ bunch fresh mint
¼ bunch fresh Italian parsley
5 tablespoons plain yogurt
½ teaspoon English mustard
3 teaspoons apple cider vinegar
2 tablespoons extra virgin olive oil
6 small whole wheat tortillas
2 oz. feta cheese
1. Wash the beets and carrots under cold running water, scrubbing with a scrubber to get rid of any
dirt (there's no need to peel them). Pick off and discard the wispy ends from the beets.
2. Hold a box grater steady on a cutting board, then gripping the root end, coarsely grate the carrots, stopping before your fingers or knuckles get too close to the grater. Place the grated carrots into a large bowl.
3. Coarsely grate or thinly slice the cabbage, then discard the core and add to the bowl. Remove the stalk from the pear, coarsely grate (core and all), then place it into the bowl. Finally, hold the root end of the beets and coarsely grate (you may want to wear rubber gloves for this), then add to the bowl.
4. Pick the mint and parsley leaves, then discard the stalks. Tear or finely chop the leaves on a board and add to the bowl.
5. Add the yogurt, mustard, cider vinegar and olive oil to a glass jar. Put the lid securely on the jar and shake well. Have a taste and see whether you think it needs a bit more yogurt, vinegar or oil – you want it to be slightly too acidic, so that it's still nice and zingy once you've dressed your rainbow salad.
6. Drizzle most of the dressing over the salad — just remember you can always add more but you can't take it away, so be cautious. Divide the salad between the tortillas, then crumble a little feta over each.
7. Roll up the tortilla wraps, tucking them in at the sides as you go, then serve.