Recipe Redo (Guilt-Free): Coolio's Spicy Chicken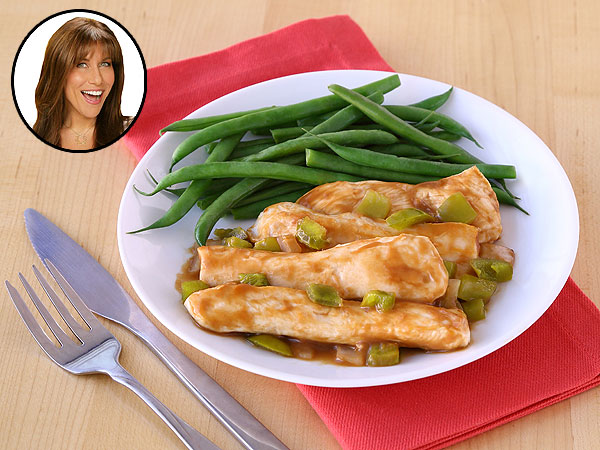 Courtesy Hungry Girl
Lisa Lillien is the author of the popular Hungry Girl website and email newsletter, featuring smart, funny advice on guilt-free eating. She is also the author of nine books, six of which debuted at number one on the New York Times Best Sellers list. Read her PEOPLE.com blog every Monday for slimmed-down celebrity recipes and more.

The '90s resurgence is everywhere these days: crop tops, Birkenstocks, Winnie Cooper on Dancing with the Stars… And hey, remember rap star Coolio? (If you need to take a minute to cue up "Gangsta's Paradise," go ahead, I can wait.)
Okay, back to the point: Turns out, Coolio really knows his food. He's a cookbook author and even came in second place to Lou Diamond Phillips on the first season of Rachael vs. Guy: Celebrity Cook-Off.
When I saw the recipe for Coolio's Spicy Chicken, I was immediately intrigued — balsamic vinegar and cream of chicken soup, together? It sounds so crazy that it has to be good.
Turns out the condensed soup keeps the chicken really moist and flavorful, and who doesn't love that? But, I knew that by choosing a lighter version of the canned soup, I could slash a ton of calories and fat grams from the dish. Plus, using a leaner cut of meat — hello, chicken breast — brings down the fat total, too.
Loads of flavor with a low calorie count… Those words are music to my ears.
'Til next time… Chew the right thing!
HG's Hot 'n Creamy Chicken
Serves 4
1¼ lb. raw boneless skinless chicken breast, cut into 16 strips
⅛ tsp. each salt and black pepper
1 10.5-oz. can 98% fat-free cream of chicken condensed soup
⅓ cup balsamic vinegar
1 cup chopped green bell pepper
1 cup chopped onion
2 tbsp. canned diced jalapeño chiles (not drained)
1 tbsp. chopped garlic
1. Preheat oven to 400 degrees. Spray a large baking pan with nonstick spray.
2. In a large bowl, season chicken strips with salt and pepper. Add remaining ingredients, and mix thoroughly. Transfer to the baking pan.
3. Bake until chicken is cooked through and tender, about 20 minutes.
In 1 serving (4 strips): 246 calories, 3.5g fat, 600mg sodium, 16.5g carbs, 2g fiber, 6g sugars, 35g protein