Harley Pasternak: 6 Fun Ways to Get in Shape — No Gym Required!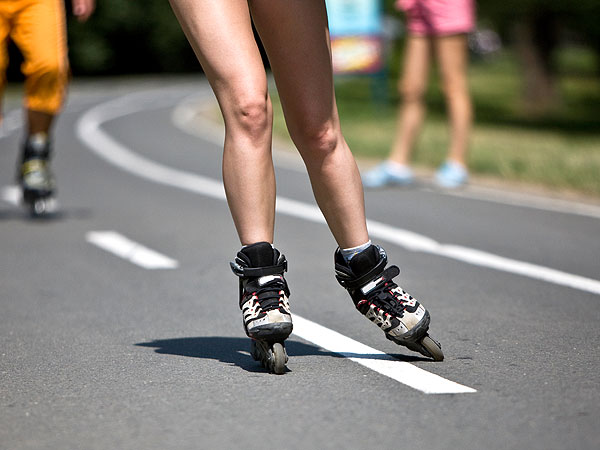 Getty
Harley Pasternak is a celebrity trainer and nutrition expert who has worked with stars from Halle Berry and Lady Gaga to Robert Pattinson and Robert Downey Jr. He's also a New York Times best-selling author, with titles including The Body Reset Diet and The 5-Factor Diet. Tweet him @harleypasternak.

Summer is almost here, and the idea of being stuck inside a dark and sweaty gym sounds less and less appealing. Not to mention having to fight over equipment, avoid other people's flying sweat and put up with the head-pounding house beats blaring overhead.
As an alternative, there are a number of physical activities you can do outdoors to burn calories and enjoy the warmer weather at the same time. Here are 6 of my favorite ways to sweat in summer:
Rollerblading
Maybe rollerblading is not as cool as it once was, and yes, you need to wear a helmet, wrist and knee pads. But you can burn almost 800 calories in an hour, work your thighs and glutes, and have a lot of fun! Plus, it's an activity you can do with the whole family.
Swimming
Swimming is an incredible activity. You use so many different muscles propelling yourself through the water, and burn tons of calories in the process. It's also easy on your joints and can be done by people of all ages. (I must admit, I'm a terrible swimmer. The upside is that I burn more calories as a result of my inefficient flailing.)
Hiking
If you're lucky enough to live in a warm climate like I do, you can hike all year. For those of you in more seasonal climates, this is the perfect time of year hike. No, I don't mean the kind of hiking done with carabiners and ropes; it's more about getting outside on a walking path or trail in the fresh air.
Not only do you get your heart pumping enough to burn 400-500 calories per hour, you get some sunlight. In fact, a recent study found that getting a few extra minutes of sunlight early in the day is linked to lower BMI. Bring a friend (or friends) and make it a social outing.
Gardening
Think of the advantages of growing your own herbs and veggies — you'll consume fewer pesticides, save money, and…lose weight? That's right! Gardening is hard work and a great form of physical activity. Live in an apartment? Try a community garden! A study published in the American Journal of Public Health found that community gardeners had a significantly lower BMI than their non-gardening neighbors.
Tennis
If you can find a friend of equal caliber to you, you can get some great volleys going to torch calories. Tennis gets you to run forward, backward, and side to side. The best part is, you end up focusing more on the game, and less about the fact that you're exercising really hard. If you can't find someone to play with, find a brick wall and try to see how many times you can keep hitting without letting the ball bounce twice.
Golf
I know what you're thinking: "golf isn't exercise." Well, I've got news for you. It's exhausting exercise – as long as you don't take the cart everywhere! In fact, walking a round of golf (18 holes) takes approximately 14,000 steps, which is 7 miles! Next time you play, bring your FitBit and see how many steps you take. (Side note – make sure to bring sunscreen!)