Your Hot Dog Is Boring. We Can Help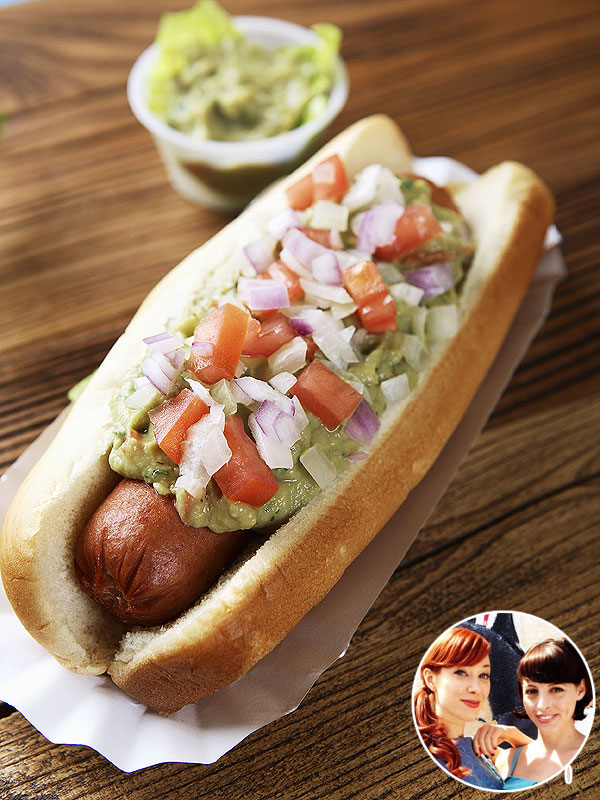 Getty; Inset: Courtesy Alie & Georgia
Alie Ward and Georgia Hardstark, a.k.a. Alie & Georgia, host Cooking Channel food-travel series Tripping Out with Alie & Georgia. Visit PEOPLE.com every Thursday for their playful spins on celebrity recipes, cocktails, entertaining ideas—and, of course, lots of laughs!

Memorial Day marks the unofficial beginning of summer, and for most people this brings the excitement of warm nights, bikinis, vacations, new memories, romance, fireflies and camping. But for us, summer means one thing: hot dogs.
You heard us. Hot dogs.
But, do us a favor and back away from the ketchup bottle. We have one mission this year and that's to enlighten you about condiments. Summer days are long, but life is too short to dress your dogs in something cliche. Mustard and ketchup? Again? For decades? No. Frankly, you're better than that.
So when you're grilling this summer, live it up with some daring hot dog toppers. Some ideas:
Guacamole
Look at that guac sitting over on the picnic table. Why don't you introduce it to your hot dog? Throw on diced tomatoes and onions, or, if you're feeling daring, a few slices of jalapeño peppers. Maybe even a little cheese. Hello, hand-held fiesta.
Liver Pate and Marmalade
A subtle layer of liver pate and a smear of marmalade just turned the franks you've eaten since childhood into a musky, sophisticated, sweet and bitter bite that will make you feel like a total grown-up, even if you're about to have a water balloon fight in flip-flops.
Goat Cheese and Arugula
Tangy goat cheese will melt over the hot dog, and arugula will give each bite a peppery finish. It's kind of like a chic, expensive salad. But it involves hot dogs.
Feta and Cucumbers
For a bite that bites back, add crumbled feta and sliced kalamata olives for a briney, bright combo. It's so delicious, you might smash a plate in celebration! (Do Greeks really do that?)
Blue Cheese and Hot Sauce
A combo of hot wing sauce and chunky blue cheese dressing (with some diced celery on top if you're craving "vegetables") is a perfect homage to hot wings. Bonus: no bones.
Brie Cheese and Grilled Apples
When your hot dog is on the grill, toss a few slices of green apple on there. They'll soften and sweeten up, and if you tuck them in the bun alongside a few slices of Brie cheese, you'll have a sophisticated brunch-y hot dog that you can eat with one pinky raised.
Mushrooms and Smoked Gouda
Grill a portabella mushroom alongside your hot dog, then slice it up and add it to the bun with some smoked cheese, like a good gouda. Smokey, satisfying, summery. It's like eating a campfire, but with fewer mouth burns!
Kimchi and Mayo
For crunch and tartness plus a little spice, go kimchi or go home. This Korean pickled cabbage is available in most supermarkets and will zest up your summer sausages in a way ketchup just can't. Add a little mayo, eat up, and pretend you went to Asia. Then go take a nap.
With that, we wish you a wonderful summer and only the most dazzling hot dog experiences. Because you deserve them.
Firing up the grill,
Alie & Georgia