This Frappuccino Is The Most Expensive Drink Ever Ordered at Starbucks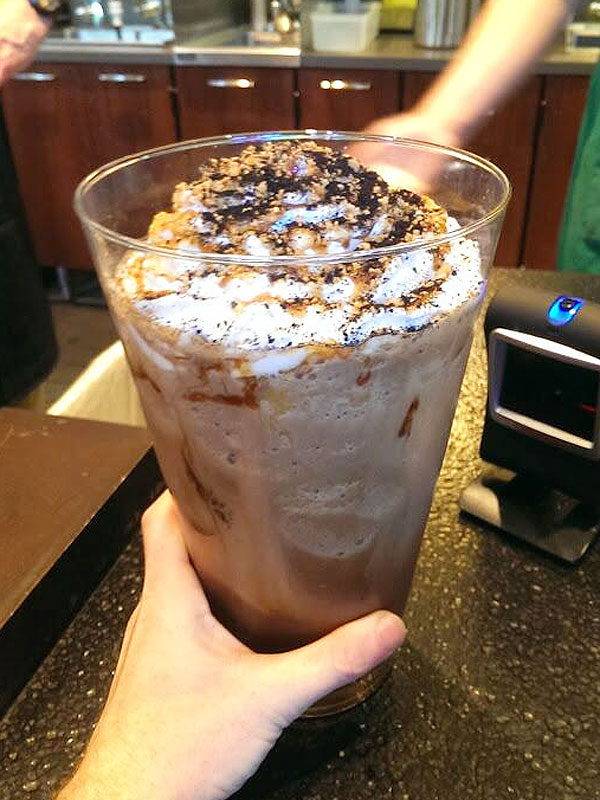 Courtesy ACIFH
Meet the Sexagintuple Vanilla Bean Mocha Frappuccino: a 128-ounce Starbucks milkshake with 60 shots of espresso, three kinds of drizzle and a sprinkling of protein powder.

The caffeinated monstrosity rang up at $54.75 — a new record for the most expensive drink ever served at the coffee chain. Best of all, it didn't cost the customer a cent.
How it went down: A Starbucks aficionado named Andrew walked into a Starbucks carrying a 1-gallon glass and told the baristas he wanted to create a delicious, totally drinkable beverage that would break the previous (known) record of $47.30. The latter, the Quadriginoctuple Frap, contained a mere 48 shots and a mishmash of ingredients.
"The $47.30 guy put in two bananas, strawberry, matcha powder, pumpkin spice, and lots of other things that probably don't go well together and definitely don't go well with 40 shots of espresso," Andrew told Consumerist. "They help raise the price, so I can't fault him for the strategy, but I didn't want to go that route."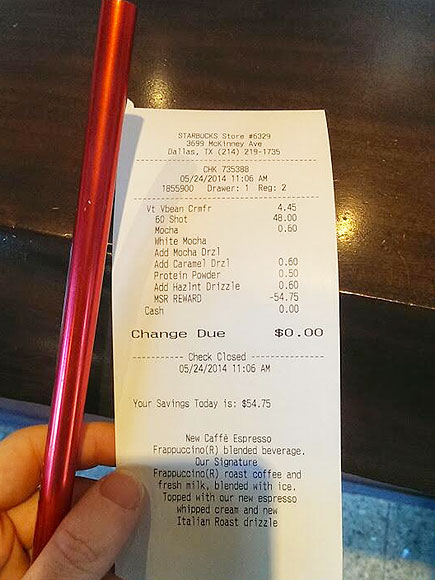 Courtesy ACIFH
Instead, he and the store's baristas, who good-naturedly went along with the plot, did the math and concocted the Sexagintuple Vanilla Bean Mocha Frappuccino, a whipped-cream-topped monstrosity made with 60 shots of espresso; mocha, caramel and hazelnut drizzle; and protein powder.
How did the drink — which contained about 4.5 grams of caffeine — taste? "I gotta say, it was delicious," Andrew said, though he drank only about a third and saved the rest for later. (For those of you wondering how safe any of this is: Drinking 10 grams of caffeine could prove fatal; Andrew was probably just jumping off the walls.)
So how did our record breaker swing not paying for his Frankenstein creation? Since he's a Gold member of the company's loyalty program, he's entitled to one free drink after his twelfth purchase. This is one way to get your money's worth!
—Nancy Mattia