Alex Guarnaschelli: No-Cook Salad Recipes to Eat All Summer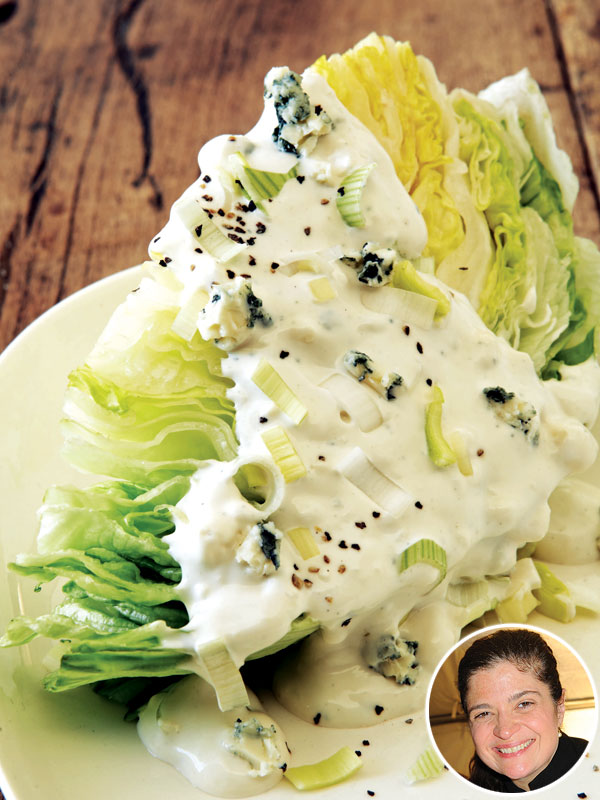 Courtesy Alex Guarnaschelli
Alex Guarnaschelli is an Iron Chef, Food Network celebrity chef and the executive chef at New York City's Butter restaurants. Read her PEOPLE.com blog every Tuesday to get her professional cooking tips, family-favorite recipes and personal stories of working in front of the camera and behind the kitchen doors. Follow her on Twitter at @guarnaschelli.
It seems like we are always searching for a way to cut down on cooking time on the kitchen. The hope for an express bus to delicious food looms large in the American sensibility, even for chefs like me.

As a mom, I get it. When cooking for my daughter, the desire to finish quickly becomes more acute. I would rather spend time hearing about her first grade trials and tribulations. (And believe me, there are trials: She might decide she likes someone for 15 minutes before changing her mind, thus her birthday-party invite list gets rewritten on a daily basis.)
With summer looming, I've been avoiding the stove altogether. This doesn't mean I'm advocating a raw diet or any kind of extreme food makeover. But a shift in focus can be kind of cool and this time of year, some of my favorite vegetables (like green beans, asparagus and parsnips) are so delicious when thinly sliced and lightly dressed. During spring and summer, I pretty much follow the trail of fresh-picked produce to inspire my meals.
The other night I made a salad of sliced green beans, asparagus and some canned tuna that was dynamite. The dressing was simply one part red wine vinegar to two-and-a-half parts olive oil with a smashed garlic clove, a pinch of dried oregano and a squeeze of honey. Rather than whisk, I simply put the dressing's ingredients into a mason jar and shook it vigorously.
I also love pairing sliced avocado with orange wedges, bell peppers, storebought cooked quinoa and a squeeze of lemon. I'm regularly tempted by cake and potato chips so I'm hardly a health nut. But I can get behind this salad because it's refreshing and satisfying, thanks to the avocado's fat and the quinoa's protein. Would a hearty protein like beef been nice in there as well? Sure. But it was also a relief simply to combine a few great ingredients, rather than being forced to cook pork chops or steak on the fly. And yes, even chefs have days when we don't feel like cooking (there, I said it!), but I find that taking a break from the stove renews my passion even more.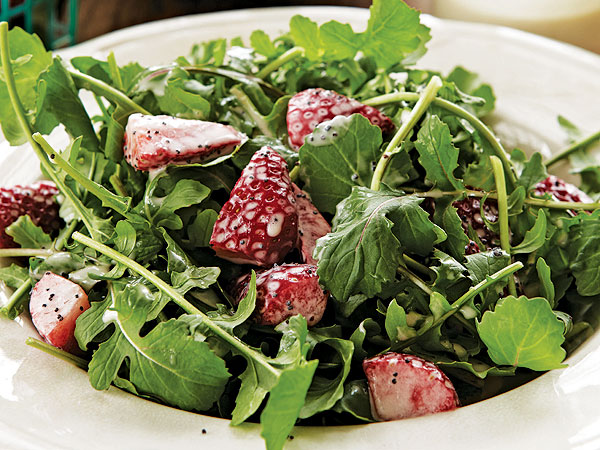 Courtesy Alex Guarnaschelli
To get you started on your own stove-free mission, I'm sharing two of my favorite too-hot-to-cook recipes. I first tried this strawberry and arugula salad during a picnic at Mountain Sweet Berry Farm in upstate New York. I always thought strawberries were simply the stuff of ice creams, shortcakes, and tarts, but this dish changed my mind. When combined with arugula, dressing and the poppy seeds, another side comes out to play: The strawberries taste almost grassy, and their seeds combine with the poppy seeds to create a great texture. (For an even simpler strawberry preparation, I slice them up with a beefsteak tomato and add a handful of sesame seeds as a quick garnish.)
For something richer and a bit more decadent, my iceberg wedge is hearty enough to be considered dinner, and has an intense flavor thanks to both blue cheese and leeks. (Confession: It's not technically no-cook because it contains bacon, but you can either omit it or stash some leftovers in the fridge the next time you're making breakfast.) Keeping the iceberg lettuce in the refrigerator until you're ready to eat it makes it taste incredibly refreshing; I also like to leave the blue cheese in little chunks so there are creamy bites meandering through the dressing. And if you have time, make the dressing the night before to allow the flavors to come together.
But my daughter, ever the carnivore, has sensed the vegetarian invasion and has requested that I make beef brisket over the weekend. As I sit here thinking about not using the stove, I'm reminded of how much I love the aroma of food permeating through my kitchen when I do. I also love the anticipation of slow cooking, setting the table with my daughter, and opening the oven and watching the its contents simmer gently. As we wait, she'll probably tell me that she doesn't want her playground buddy, Jack, to come to her birthday party after all. I know her opinion will likely change in a day. And also that variety is the spice of life — especially when it comes to cooking.
Strawberry-Arugula Salad
Serves 4
3 tbsp. mayonnaise
2 tbsp. sherry vinegar
1 tsp. honey
3 tbsp. extra-virgin olive oil
1 tbsp. canola oil
¼ tsp. kosher salt
1 generous pint of fresh strawberries, hulled and halved lengthwise
A sprinkle of poppy seeds
2 cups arugula leaves
1. In a large bowl, whisk together the mayonnaise, sherry vinegar, and honey. Whisk in the olive oil, canola oil, and salt.
2. Toss the strawberries and poppy seeds in the dressing. Add the arugula and gently mix. Serve immediately.
Chilled Iceberg Wedge with Blue Cheese and Leeks
Serves 8 to 9
3 large heads iceberg lettuce
1 cup mayonnaise
½ cup sour cream
Juice of 1 lemon (about ¼ cup)
2 tbsp. red wine vinegar
2 garlic cloves, finely grated
7 to 8 splashes (or a scant tablespoon) Worcestershire sauce
2 splashes Tabasco sauce
Kosher salt and coarsely ground black pepper
8 oz. blue cheese, crumbled into chunks
4 slices bacon, cut into 1-inch pieces (optional)
1 leek (white and light green part only), finely chopped and well washed
1. Trim the stem end from each head of lettuce, remove the outer leaves, and cut each head into 3 wedges. Transfer to a small platter and put in the refrigerator for at least 1 and up to 4 hours.
2. In a medium bowl, whisk together the mayonnaise, sour cream, lemon juice, vinegar, garlic, Worcestershire sauce, and Tabasco. Taste for seasoning, adding salt and pepper, if desired. Vigorously stir in half of the blue cheese so it blends in but also remains in visible pieces.
3. In a small skillet, cook the bacon with ¼ cup water over medium heat until all of the water evaporates and the bacon becomes crisp, 5 to 8 minutes. Use a slotted spoon to transfer the bacon to a paper towel to drain.
4. When ready to serve, remove the iceberg from the fridge, arrange it on a serving platter, and coat each wedge with a generous amount of the dressing. Top with the remaining blue cheese, the chopped leek, and the bacon pieces, if using. Sprinkle with coarsely ground black pepper and serve immediately.