PHOTO: See Lisa Niemi's Stunning White, 4-Tier Wedding Cake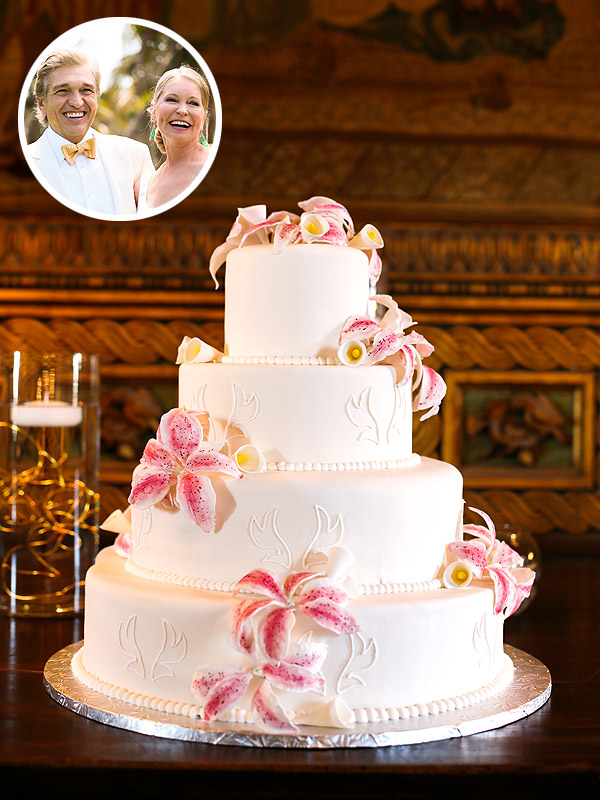 Donna Newman
Though Lisa Niemi and Albert DePrisco were clearly the main attraction at their May 25 nuptials at the Mar-a-Lago Club in Palm Beach, Florida, their four-tier wedding cake got a lot of attention, too.

Perhaps even more impressive: The baker, Esmeralda Pinilla, of Couture Cakes in Delray Beach, Florida, had less than a week to design and prepare the custom confection for Niemi (the widow of actor Patrick Swayze) and her husband-to-be. Normally, she has anywhere from two weeks to a year, she says.
"Lisa and Albert came into the shop about ten days before the wedding and looked at my photo albums to get an idea of their choices," Pinilla tells PEOPLE. "But when they saw a photo of an all-white cake hanging on the wall, that's the one they wanted."
The groom, a jeweler, was especially enamored with having "a real white cake," inside and out, calling himself "traditional," Pinilla says. So she used cake flour, which is whiter than all-purpose, and white vanilla extract, instead of the more common brown.
Covered in silky white fondant, the white-cake layers were decorated with edible gum-paste lilies and calla lilies, and edged with edible pearls. The handmade blossoms echoed the real wedding flowers.
The filling was whipped cream instead of vanilla custard, "which is too yellow," the baker says, describing the cake as "simple yet elegant."
"They were such a sweet couple," says Pinilla, who scheduled a cake tasting for them the Tuesday before the wedding. "When they were done eating, Albert picked up their plates and put them in the sink. That's when Lisa joked, 'Now you see why I'm marrying him!'"
For more exclusive photos and details from inside Niemi's wedding, pick up this week's issue of PEOPLE, on newsstands Friday
—Nancy Mattia