Recipe Redo (Guilt-Free!): John Besh's Pork & Sausage Jambalaya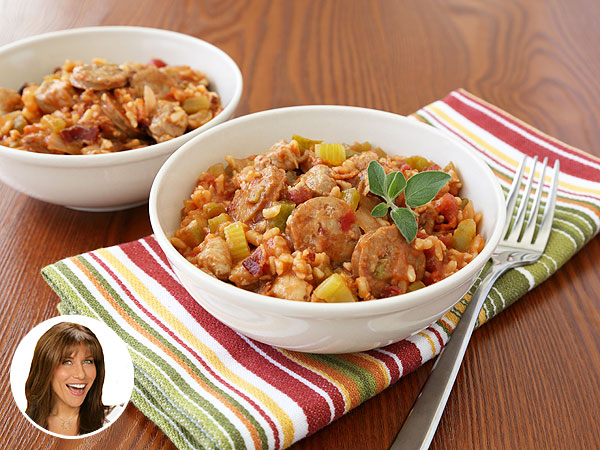 Courtesy Hungry Girl
Lisa Lillien is the author of the popular Hungry Girl website and email newsletter, featuring smart, funny advice on guilt-free eating. She is also the author of nine books, six of which debuted at number one on the New York Times Best Sellers list. Read her PEOPLE.com blog every Monday for slimmed-down celebrity recipes and more.

New Orleans chef John Besh is more than capable when it comes to Louisiana cuisine. He was raised in the southern state and has ten — count 'em, TEN! — restaurants dedicated to serving up the best the South has to offer. Who better to look to for jambalaya tips?
Side note: Wanna know how tough John Besh is? He's a former Marine! Wow.
While Besh obviously knows his stuff and is not to be trifled with, his pork-packed jambalaya recipe is on the heavy side. However, it does look delicious! And jambalaya is a perfect dish for weeknight dinners. So I tweaked his formula to trim the fat and boost the fiber, using leaner meats, brown rice and lots of veggies.
Alright, Besh, drop and give me 20… grams of fat slashed from your recipe! (That's my guess when comparing the two, at least.)
'Til next time… Chew the right thing!
HG's Mega-Meaty Jambalaya
Serves 4
6 oz. (about 2 links) cooked chicken sausage (with 8g fat or less per 3-oz. serving)
6 oz. raw pork tenderloin, chopped and trimmed of excess fat
1 14.5-oz. can no-salt-added diced tomatoes (not drained)
1 cup chopped onion
1 cup chopped green bell pepper
1 cup chopped celery
1 cup low-sodium fat-free chicken broth
½ cup uncooked brown rice
1 tbsp. chopped garlic
1 tsp. Cajun seasoning
½ tsp. hot sauce, or more to taste
¼ tsp. dried oregano
¼ tsp. ground thyme
3 slices center-cut bacon or turkey bacon
Salt and black pepper, optional
1. Slice sausage into coins. Bring a large pot sprayed with nonstick spray to medium-high heat. Add sausage and pork and cook until browned, about 6 minutes.
2. Add all remaining ingredients except bacon and mix thoroughly. Bring to a boil.
3. Reduce heat to low. Cover and simmer until veggies are tender, rice is fluffy and most of the liquid is evaporated, about 50 minutes. The jambalaya should be very moist but not soupy.
4. Meanwhile, cook bacon until crispy, either in a large skillet over medium heat or on a microwave-safe plate in the microwave. (See package for cook time.)
5. Chop or crumble bacon. Add to the pot, stir, and enjoy!
In 1 serving (about 1⅓ cups): 284 calories, 7g fat, 551mg sodium, 32g carbs, 4g fiber, 6g sugars, 22.5g protein
VIDEO: Great Ideas Talk to John Besh