Giada De Laurentiis Opens Debut Restaurant in Las Vegas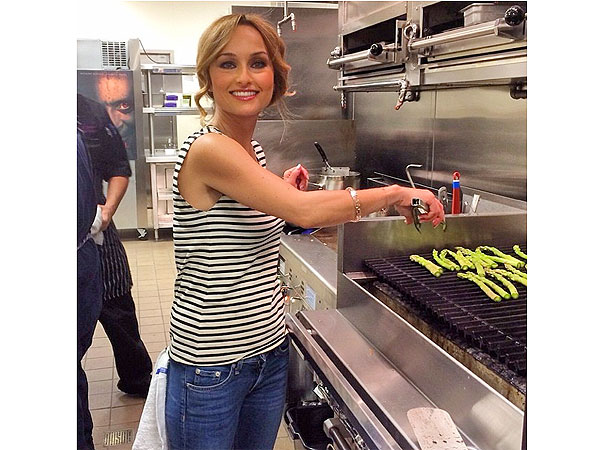 Courtesy Giada De Laurentiis
Giada, the first restaurant launch by celebrity chef Giada De Laurentiis, is set on the Vegas strip in a two-story space big enough for 300 diners. But the telegenic star is hoping that despite the size, her customers will feel like they're having dinner with her in her home.
"My goal for this restaurant is to be able to share a part of my life, my culture and my family with every guest. I want each person to feel like they're entering my home, receive a big welcoming hug and enjoying a fantastic Italian meal," De Laurentiis told the Las Vegas Sun.
She told PEOPLE in February, "With Italian restaurants everywhere [in Vegas], I need to find a way to make [mine] all my own. So I'm finding some unique and fun ways to create not just great ambiance and food, but a fun show."
The restaurant opens Tuesday in The Cromwell, a boutique hotel run by Caesars that was formerly Bill's Gamblin' Hall and Saloon. The entire venue is filled with Giada-approved touches, including art from her personal collection, family photos, a hand-blown glass chandelier in rose gold (her favorite color) and even quotes that sum up her philosophy, such as "Eat a little of everything, but not a lot of anything."
Sticking to that second part might be tough now that we've seen the menu, which De Laurentiis posted to Instagram on Monday. It's delivered in a glam leather binder and is filled with the hearty-yet-fresh Italian dishes, many passed down from relatives, that have become the Everyday Italian star's trademark.
Appetizers include a dramatically tossed fritto misto made with shrimp, calamari and shaved fennel.
Not surprisingly, De Laurentiis offers eight different kinds of pasta, much of it made in-house, like a pea pesto tortellini and a spaghetti with lemon and shrimp, both of which were served at the opening party.
And though she's known for her healthful recipes, De Laurentiis, who's shown here plating a strawberry tart, knows her audience and has not overlooked that classic symbol of Sin City indulgence: the roving dessert cart. "I'm building these beautiful pink-and-gold carts to stroll through the restaurant. We can do all sorts of flambés and fun stuff that people can see, and then it becomes a show and people want it to come to their table and they will order dessert," she told PEOPLE earlier this year at the South Beach Wine & Food Festival. "That is my [goal]—to not allow people leave without a bit of sweetness in their life," she added.
—Lexi Dwyer