Alex Guarnaschelli: How I Almost Turned Down Chopped — And Why I'm Glad I Didn't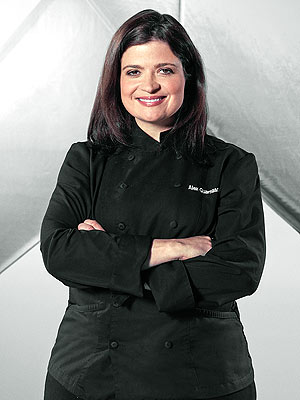 Courtesy Alex Guarnaschelli
Alex Guarnaschelli is an Iron Chef, Food Network celebrity chef and the executive chef at New York City's Butter restaurants. Read her PEOPLE.com blog every Tuesday to get her professional cooking tips, family-favorite recipes and personal stories of working in front of the camera and behind the kitchen doors. Follow her on Twitter at @guarnaschelli.

There are times when you end up in a place by complete accident. And times when that ends up becoming the most wonderful thing.
I'll always remember the afternoon I got a call from a colleague asking me if I would please become part of a pilot for a Food Network show called Chopped. He described the format as competition-based with lots of teaching and learning about varied baskets of ingredients from cultures all around the world. "Sounds great to me," I responded politely, "but I am busy that day."
Why did I decline? I wonder, as I look back. I think I worried the show would be mean-spirited. I worried about failure. I worried about falling in love with the process only to have the show go away.
A month or two later, I received a copy of the pilot episode from the Food Network offices. "Watch how great this is," the note in the envelope read. And it was. And that was all it took to convince me.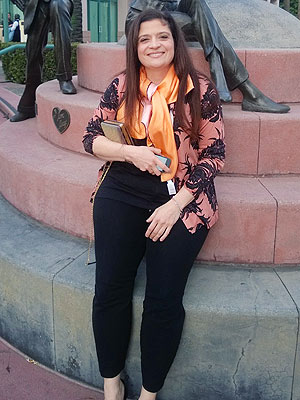 Courtesy Alex Guarnaschelli
And here I am in L.A., six whole years later, to participate on a panel to discuss the show. I am bowled away by the statues and sculptures outside the building where the panel will be held. My favorite is the one of Lucille Ball, certainly a hero of mine. Funny. Bold, unafraid. When I flip my TV to the occasional episode of I Love Lucy, I laugh still, and marvel that a television show can endure for so long. The two couples on the show seemed so close, even through the bickering and misunderstandings. I feel a similar closeness between us cast members on Chopped.
Scott Conant, a fellow judge, and I have known each other for more than 15 years and we cannot stop laughing when we hang out. He makes fun of me for being Italian and not making Italian food in my restaurant. I make fun of him for not being Italian and making Italian food in his restaurants. He is really someone I can trust and be myself with.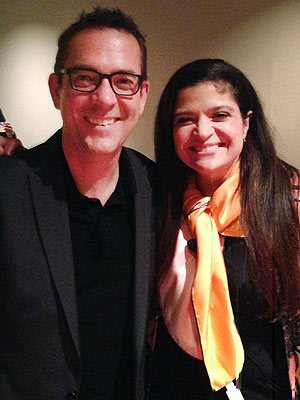 Courtesy Alex Guarnaschelli
The same is true of Ted Allen, the host. Have you ever known someone who can memorize a page of a script in 3 minutes flat and then ad lib the rest of the time? He is also very passionate about the contestants and the show.
Amanda Freitag, another fellow judge, has a great memory of many episodes and contestants. She also keeps the boat on course. I will be lost in someone's story or stuck on some creative touch on a dish and she will look at me and say something super simple like, "The eggs were really overcooked and inconsistent." I'll agree, smiling and realizing that had she not reminded me of the critical fundamentals, I'd be lost at sea.
And then there's Marc Murphy. The voice of reason at the toughest moments, he once spent an hour (successfully) explaining to me why my vote for one contestant was actually misguided.
Truth is, we can't all help picking a favorite when we step on the set. The problem is that you never know what is going to happen between the contents of those baskets being unveiled and that clock expiring. It's like gambling, and the skill set of the cook is never a sure bet. We discuss that on this panel in great detail.
We step outside into the cool night air of Los Angeles and proceed to the reception area where various people have gathered to snap a picture with Ted Allen. "Remember the one episode where there was nothing but raw chicken?' one person asks.
"When they put Durian in the basket, I just don't know how contestants deal with something like that with so little time!" another exclaims.
"My daughter and I buy the ingredients from various baskets and cook with them at home to familiarize ourselves with new ingredients," one woman confides.
"My 8-year-old granddaughter told me I was chopped the other day for overcooking her eggs," chuckles a grandfather from the back of the crowd.
As I watch reactions and stories come from the crowd, I realize that Chopped puts everyone on common ground. Everyone learns something. Everyone empathizes with mistakes made or shouts at the TV when someone takes an unfortunate path with a basket. In some way, in some form, we have all been chopped…