We Tried It: Does Yacon Syrup Help You Lose Weight?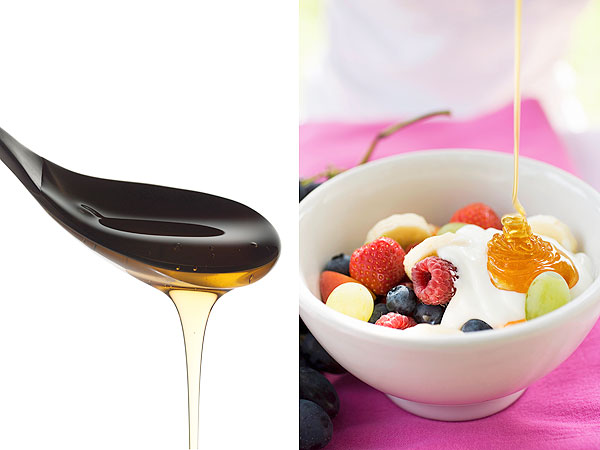 Left: Martin Barraud/Getty; Right: Foodcollection/Getty
WHAT IS IT: A molasses-like natural sweetener derived from an Andean root
WHO TRIED IT: Brooke Showell, PEOPLE.com contributor
WHY SHE DID IT: Because a spoonful (or three) of yacon a day keeps the pounds away, according to Dr. Oz

Haven't heard of yacon?
Neither had I (and neither has spell-check, which insists on auto-correcting to "bacon"). But this ancient Andean root currently ranks among the top search terms on Yahoo, thanks in part to a recent re-airing of The Dr. Oz Show from November that touts the molasses-like natural sweetener's benefits as a weight-loss wonder —the women in his study lost an average of 3 pounds after a month of yacon-ing.
Wait a sec.
November? Where have I been? As someone who considers myself up-to-date with the latest superfoods (goji berry, acai, chia seeds — now you're speaking my language!) I don't know how this fell off my radar. Between yacon syrup and drinkable clay, I have a lot of catching up to do.
Plus, Dr. Oz could charm me into anything. And with an upcoming beach vacation and new bikini staring me in the face, I'm game.
The easy part is that Dr. Oz says to continue with your normal eating and exercise regimen, and just add one teaspoon of yacon syrup before or with breakfast, lunch and dinner. Admittedly, it does sound a little gimmicky. But considering I've already tried every juice cleanse, GOOP-approved detox, and strictly pineapples-and-leeks diet there is, I'm not above it.
This does go against my more extreme diet instincts — say, Beyoncé's Master Cleanse; nothing but yacon and lemons, STAT! — so we'll see if I can adhere to the "don't change anything" messaging. I'm already a pretty healthy eater (lots of kale, quinoa, blueberries and all that good stuff) and I practice yoga about four times a week, so I plan to keep up with that… plus maybe a pancake or two over the weekend.
Whole Foods didn't have the elusive 100-percent natural yacon syrup (and not because it flew off the shelves; I asked), but I did find it at my local market The Health Nuts — where an 8.5-oz. bottle of syrup is $23.39, but it's all in the name of research. Plus, with 6 teaspoons in an ounce, one bottle will last 17 days on this 3 teaspoons a day plan. Surprisingly, the syrup wasn't in the section of vitamins and supplements, but in a pretty glass bottle in an aisle with all the delicious-looking syrups and sweeteners, which could be promising.
DAY 1
For breakfast I test the theory that yacon can replace honey, and try it with almond butter and a banana on a brown-rice cake. It has a slight cough-syrup taste to it (I'm not really getting the alleged fig or raisin flavor), but it's sweet and totally palatable.
DAY 2
I start the day like Jennifer Lopez with a morning smoothie of almond milk, frozen banana, almond butter, chia seeds and yacon. After work, while out at drinks, one of my besties (who happens to be a physician) says she hasn't heard of yacon. Have I stumped the medical community? I give her my best Oz-like description, and also start brainstorming yacon cocktails. Maybe that's missing the point.
DAY 3
Turns out yacon is pretty yummy mixed with plain Greek yogurt. One practical note for you on-the-go readers interested in this regime: I'm not home for many meals, and it's not practical to carry around a giant bottle of syrup, so I've made a makeshift travel bottle by re-using a tiny liquid-vitamin "shot glass" left over from one of my many juice cleanses.
DAY 4
Let's be clear: I have a major sweet tooth. I usually need a bite of dessert after lunch or dinner (okay, both). But the yacon syrup taste sort of lingers (I'm constantly brushing my teeth), so I'm actually not craving chocolate as much. Though I do snack on some apple slices with cinnamon, drizzled with yacon.
DAY 5
I have the Mary Poppins lyrics, "Just a spoonful of sugar helps the medicine go down," stuck in my head. I also finally have pancakes with extra berries, hold the yacon. I need a little break.
DAY 6
I just can't stomach a teaspoon of yacon with my sashimi lunch, so I skip another dose. Though, later, it's nice swirled into a cup of green tea.
DAY 7
Still skeptical, I check in with certified health coach Arielle Haspel of Be Well with Arielle, who first tried yacon syrup at a yoga retreat where they served it at the coffee-and-tea bar. She gives me the rundown: "It contains half of the calories of sugar, promotes healthy bacteria in the digestive system, is loaded with minerals including potassium, and is low glycemic, so it won't spike your blood sugar," she explains. "So yes, it is a healthier alternative to processed sugars and has a lot of health benefits, but I wouldn't tout it for weight loss or call it a miracle weight-loss drug."
THE VERDICT
I did my best to stick to the "don't change anything" prescription — summer salads, a batch of homemade Sriracha hummus, lots of downward dog and a little pancake splurge at Sunday brunch for good measure — but I don't think the scale has budged more than an ounce or two. Then again, much of the background research on yacon tracked overweight women, which I am not. I could see "the yacon diet" being an impetus to make healthier food choices or to curb sugar cravings, both of which could contribute to weight loss over the course of a month (versus my abridged seven-day plan).
I think I'll go back to my usual routine, though I will use my leftover yacon syrup in green tea, Greek yogurt and smoothies on occasion instead of honey — or in this recipe for Haspel's healthy Rice Krispies treats. Did I get my money's (and time's) worth? The jury's out. But I did discover a healthier alternative to sugar. And that's good enough for me — and my bikini.