Harley Pasternak: Is Your Cereal Healthy — Or Faking It?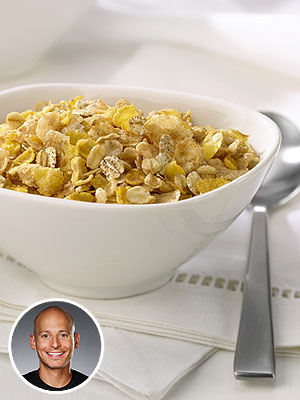 James Ross/Getty, Courtesy Harley Pasternak
Harley Pasternak is a celebrity trainer and nutrition expert who has worked with stars from Halle Berry and Lady Gaga to Robert Pattinson and Robert Downey Jr. He's also a New York Times best-selling author, with titles including The Body Reset Diet and The 5-Factor Diet. Tweet him @harleypasternak.

I think it's safe to say that most of us grew up starting our days with a bowl of cereal and cold milk.
Some of us had somewhat healthy (boring) cereals, like Rice Krispies, Cheerios and Wheaties. The rest of us were raised on colorful, sugary cereals with marshmallow charms, chocolate puffs and neon loops (not naming names!).
As adults, many of us have graduated to omelets and oatmeal to start our day, but old habits die hard, and too many of us are eating cereals loaded with sugar, often under the guise of a healthy name or packaging with healthy ingredients on the cover. Just because something has the word 'fruit,' 'harvest' or 'grain' in the title, or pictures of wheat stalks on the box, doesn't make it a healthy choice.
For example, Post's Raisin Bran does have a bunch of fiber, but it also has 20 grams of sugar in one cup — 65 percent more sugar than Froot Loops! These dessert-like cereals are definitely contributing to our nation's obesity, often without us consumers even realizing it.
When you're walking down that aisle full of overwhelming options, look for at least 5 grams of protein, 5 grams of fiber and less than 10 grams of sugar per ¾ cup on the nutrition label of the cereal box. The combo of fiber and protein will keep you fuller longer, and avoiding a sugar bomb will help prevent blood sugar spikes that can leave you feeling hungry and drained later on in the day.
Here are a few of my favorite cereals:
Kashi GOLEAN
In 1 cup:
160 calories
10 grams of fiber
13 grams of protein
9 grams of sugar
All Bran
In ¾ cup:
120 calories
15 grams of fiber
6 grams of protein
9 grams of sugar
Grape Nuts
In ½ cup:
210 calories
7 grams of fiber
6 grams of protein
5 grams of sugar
Arrowhead Mills Puffed Kamut
In 2 cups:
100 calories
4 grams of fiber
6 grams of protein
0 grams of sugar
Nature's Path Optimum Power Blueberry Cinnamon Flax
In ¾ cup:
200 calories
9 grams of fiber
9 grams of protein
9 grams of sugar