Drink Your Dessert: Alie & Georgia's Mexican Hot Chocolate Cocktail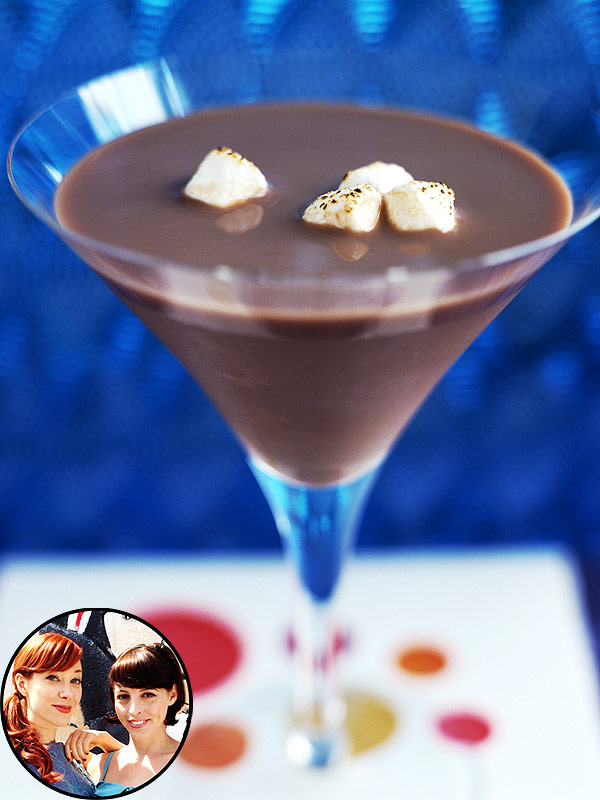 Alexandra Grablewski/Getty; Inset: Courtesy of Ali
Alie Ward and Georgia Hardstark, a.k.a. Alie & Georgia, host Cooking Channel food-travel series Tripping Out with Alie & Georgia. Visit PEOPLE.com every Thursday for their playful spins on celebrity recipes, cocktails, entertaining ideas—and, of course, lots of laughs!

When you're a hunky dreamboat of an actor who's landed on the cover of magazines and appeared shirtless in countless blockbuster movies, à la Armie Hammer, you probably don't have to ponder difficult life decisions such as "What am I going to do Saturday night?" or "What if I can't find a date for my cousin's wedding?"
But even hunky dreamboats may be faced with the dilemma of "Should I have a nightcap or dessert, because I certainly can't calorically afford to have both." (You know, soul-searching questions.)
Mr. Hammer probably goes the dessert route when his wife bakes these Mexican Hot Chocolate Brownie Bites, and we would salute him heartily on that choice. However, on those nights when you can't decide if you want a brownie or a cocktail, we offer up our Mexican Hot Chocolate Cocktail as an answer.
Now if only Armie could be our date to our cousin's wedding, we'd have everything figured out.
Mexican Hot Chocolate Cocktail
Makes 1
1 package hot chocolate
1 oz. cinnamon schnapps
¼-½ tsp. cayenne pepper
1. In a mug, make hot chocolate according to package specifications.
2. In a small glass, mix cinnamon schnapps and cayenne pepper until blended.
3. Add schnapps mix to hot chocolate mug and stir well to combine. Transfer to cocktail glass and add marshmallows if you're feeling fancy.
4. Toast to a cocktail and dessert in one pretty glass.