Artist Creates 12-Foot Chocolate Portrait of Prince William and Baby George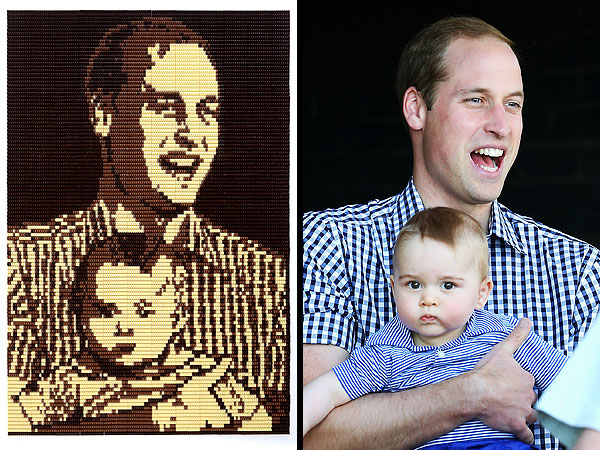 Courtesy Toblerone; Chris Jackson/Getty
Heads up, Kate Middleton: If you're thinking of getting your husband a new necktie or bathrobe for his first Father's Day on June 15, you might want to step it up a bit.

Toblerone, the Swiss brand, has come up with a gift that's going to be hard to beat: a portrait of the Duke of Cambridge with Prince George created entirely in chocolate.
Made of milk, dark and white varieties, the tasty picture is the work of British sugar and food artist Michelle Wibowo, who was commissioned by Toblerone. She used more than 1,500 of the iconic triangular bars — 16,074 individual pieces weighing almost 340 pounds! — to construct the 12ft. x 8 ft. candy masterpiece.
She re-created a photo of the two royals taken this past Easter Sunday at a zoo in Sydney, Australia. While William is laughing, eight-month-old George — who's sitting cozily in Dad's arms — wears an adorable scowl.
Wibowo, pictured below mid-project, says she was excited to take on the assignment for such a celebrated monarch. "Everyone's first Father's Day is a memorable occasion," she says, "and what better way to mark the nation's favorite royal father than by creating an edible portrait of him?"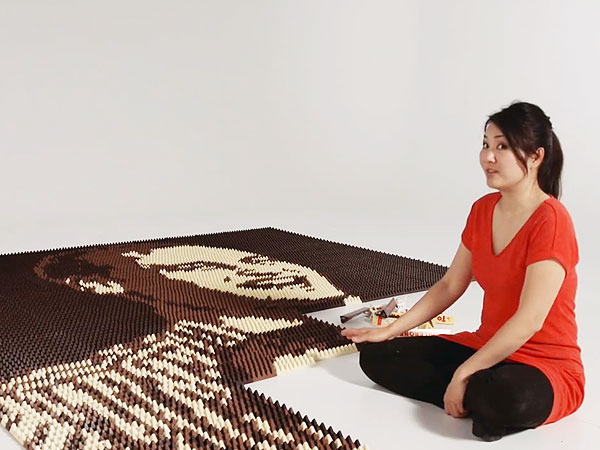 Do you think you could design a candy portrait of your beloved? Unless you've got a load of spare time and willpower, you probably shouldn't try this at home: It took the pro 100 hours of planning, prepping and building.
"It [took] me a long time to map out the exact location for each tiny piece of chocolate to create a recognizable image," Wibowo says. But the most difficult aspect of the job? "Trying not to eat the Toblerone along the way!"
Watch a video of Wibowo creating the sugary masterpiece:
—Nancy Mattia