Recipe Redo (Guilt-Free!): Spike Mendelsohn's Toasted Marshmallow Shake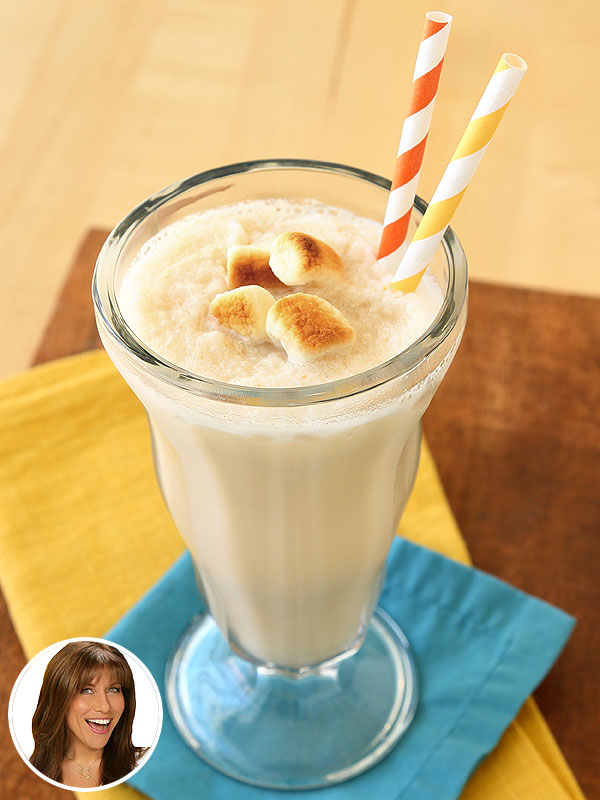 Courtesy Hungry Girl
Lisa Lillien is the author of the popular Hungry Girl website and email newsletter, featuring smart, funny advice on guilt-free eating. She is also the author of nine books, six of which debuted at number one on the New York Times Best Sellers list. Read her PEOPLE.com blog every Monday for slimmed-down celebrity recipes and more.

You may know chef Spike Mendelsohn, the man of a million fedora hats, from his stints on Bravo's Top Chef shows — he was a runner-up on season 4 and a contestant on season 8 of Top Chef All-Stars. But since he first busted onto the reality TV scene, he's launched a slew of restaurants around Washington, D.C. He even created a President Obama Burger for the menu at Good Stuff Eatery when our burger-loving president was inaugurated back in 2009. (It's still on the menu, along with the Michelle Melt!)
When I heard about Spike's Toasted Marshmallow Shake, I knew I had to make it over. I love the idea of mixing toasted marshmallows and ice cream, but I did the math and found out that a serving of Spike's shake has… wait for it… about 575 calories and 12 grams of fat!
I've gotten pretty good at creating slimmed-down blended drinks over the years — and by using some of my favorite shake ingredients (and those toasted marshmallows, of course), I created a doppelganger for his creamy creation.
The photo above has two straws in case you want to share, but this dessert can easily be slurped solo: The whole thing has less than 200 calories and just 1.5g fat. Who wouldn't raise a glass to that?
'Til next time… Chew the right thing!
HG's Toasty 'Mallow Shake
Makes 1
1 tsp. sugar-free French vanilla powdered creamer
½ cup mini marshmallows
½ cup light vanilla soymilk
⅓ cup fat-free vanilla ice cream
1 cup crushed ice (5-8 cubes)
1. Preheat the broiler. Line a baking sheet with aluminum foil and spray with nonstick spray.
2. In a tall glass, combine creamer with 1 tbsp. hot water and stir to dissolve.
3. Lay marshmallows on the foil on the baking sheet, evenly spaced. Broil until golden brown, about 1 minute. (They go from browned to burnt very quickly, so don't take your eyes off them!)
4. Let marshmallows cool. Meanwhile, add creamer mixture and all remaining ingredients to a blender.
5. Carefully peel marshmallows off the foil and transfer all but 4 marshmallows to the blender. Blend on high speed until smooth. Pour into glass, top with remaining marshmallows and sip!
In 1 serving (entire recipe): 179 calories, 1.5g fat, 113mg sodium, 36g carbs, 0.5g fiber, 26g sugars, 5.5g protein