Alex Guarnaschelli: My Favorite Foods to Throw on the Grill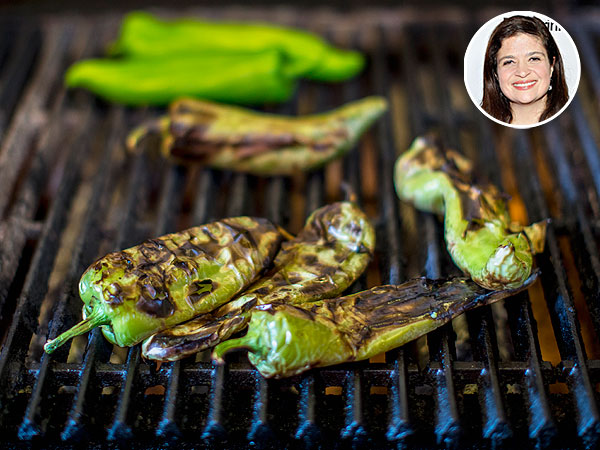 Inti St Clair/Getty; Cindy Ord/Getty
Alex Guarnaschelli is an Iron Chef, Food Network celebrity chef and the executive chef at New York City's Butter restaurants. Read her PEOPLE.com blog every Tuesday to get her professional cooking tips, family-favorite recipes and personal stories of working in front of the camera and behind the kitchen doors. Follow her on Twitter at @guarnaschelli.

When summer hits, we always look to the grill. There's something about that wonderful char and sexy grill marks that makes us feel American. Grilled hamburgers, steaks and corn just make us happy. I even see it when steak (in any form) appears in the baskets on Chopped. The contestants perk up. The audience gets extra excited. When those contestants break out the grill pans and start grilling the steak, even better.
The classic grilling tactic is to grab the main ingredient and go to town. But what about when you grill other things that provide what I like to refer to as the "wonderful underground grill effect?"
For example, I love grilled fruit, like peaches and pineapple. These fruits seem to get juicier and richer in flavor from sitting on the grill. I leave them for a few minutes before rotating them — one of the hardest things about cooking is having those moments where you are doing nothing and the food is getting the time it needs to intensify in flavor!
I also love to grill chili peppers (especially Poblano and jalapeño) until the skin is wonderfully dark and puffs slightly. Sometimes I leave that skin on and chop the peppers to use for a salsa, or marinate the peppers in oil to use in a summer salad at a later date. Have you ever pickled a grilled pepper? Delicious. Grill them, slice them up and drop them in some pickling liquid.
Here's another great idea: Drop fresh thyme sprigs directly on the grill and let them char and dry out. Then, flake the thyme off the stems into a jar of simple syrup (equal parts sugar and water mixed, heated and cooled) and chill. You now have thyme syrup, which is a cool way to sweeten a batch of summer lemonade, or a gin or vodka cocktail. You could even infuse a bottle of cheap vodka with grilled thyme …
One of my very favorite foods to grill, though, may surprise you. I wash and dry clams, lightly oil them and drop them in a single layer on a hot, clean grill. The first time I did this, I worried the clams would open and all the wonderful juices trapped in the clam shells would fall down into the grill instead of falling into my mouth (always the main objective in cooking!). Nope! As they opened, I plucked them off the grill and tossed them into a bowl of chopped, grilled zucchini and mint leaves mixed with a little lemon juice. The char taste on the outside of the shells adds so much flavor to the dish.
The added bonus is that grilling the shellfish requires very little oil and shellfish are, in the world of calories, some of the best "bathing suit season" foods you can eat. Perfect for summertime. So are vegetables, and shrimp.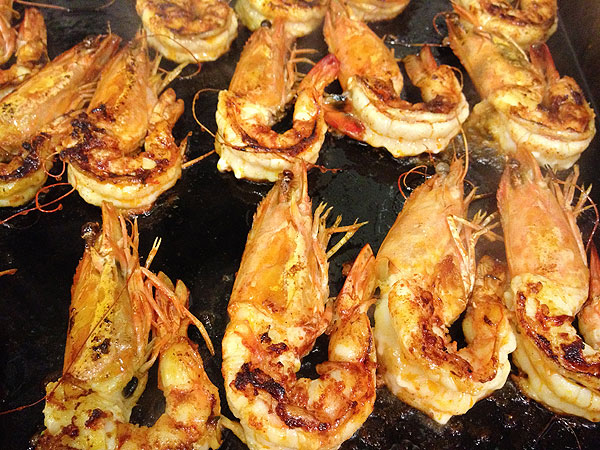 Courtesy Alex Guarnaschelli
One note: Grilling can dry out some vegetables, so there's nothing like that one-two punch from charring broccoli or cauliflower on the grill and then braising them in some liquid to juice them up. It's like giving the vegetables a mud mask and a facial before eating. The results are tasty and juicy.
The kicker in all this is that I only have a grill at the restaurant. It means I am unable to grill at home. When I get the urge, I turn to my trusty cast iron skillet. But that will have to wait until my next post…
What are you going to try on the grill?