Watch Jimmy Kimmel Drink a Margarita Out of the Stanley Cup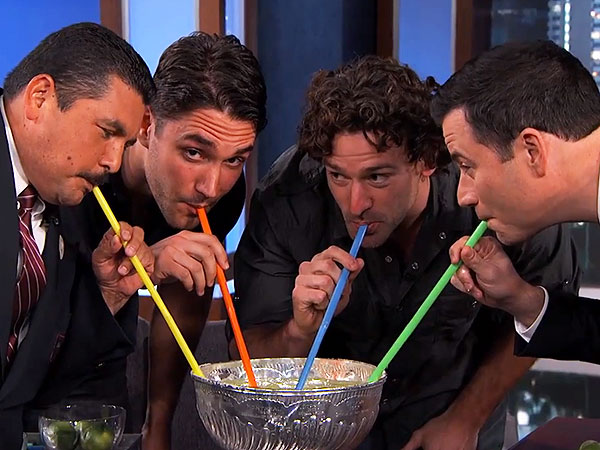 It's time to play a game called "What Can We Do with the Stanley Cup?"

L.A. Kings players Justin Williams and Alec Martinez — who scored the Cup-winning goal against the New York Rangers on Friday — visited Jimmy Kimmel Live! Monday night with the giant silver trophy in tow.
Lingering on the side of the set: Phil Pritchard, whom the Hockey Hall of Fame has designated a "keeper of the Cup," there to tell Kimmel what behavior is and isn't allowed with the iconic award.
After learning he cannot use the Cup to wash a dog, steam vegetables or decorate his car, Kimmel asks what should have been question number one: "Can we line the rim with salt and make a big margarita in it?"
As the crowd cheers, show regular Guillermo rolls out a cart with tequila, lime juice, limes, salt and a big pitcher of ice. Turns out Guillermo is our kind of bartender (read: heavy-handed), pouring nearly an entire bottle of tequila into the Cup before Kimmel adds lime juice.
Clearly, that's not enough alcohol for a proper victory cocktail, though. "Add a little bit more of that tequila," Martinez says to Kimmel, gesturing at a second bottle, which the late-night host dumps into the drink.
Williams stirs the mixture with a spatula — a very traditional way to blend margaritas, Kimmel jokes — before all four men slurp up the drink through brightly colored straws. "That's very good," Kimmel pronounces.
Watch the men make and drink the massive margarita in the clip below: