Harley Pasternak: Why You Shouldn't Be Scared of Salt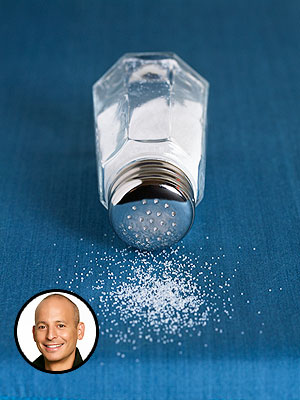 Courtesy Harley Pasternak, Kristin Duvall/Getty
Harley Pasternak is a celebrity trainer and nutrition expert who has worked with stars from Halle Berry and Lady Gaga to Robert Pattinson and Robert Downey Jr. He's also a New York Times best-selling author, with titles including The Body Reset Diet and The 5-Factor Diet. Tweet him @harleypasternak.

It's okay to get a little salty sometimes…
As the demonization of dietary sodium continues, it seems that we may have overdone our under-salting of foods.
The recommendation for adults of less than 1,500mg of sodium per day is based on preventing hypertension, which sodium has been proven to cause. However, a recent meta-analysis (an analysis of several studies looking at the same topic) out of Denmark found that current CDC-recommended sodium guidelines may be too low.
One study that the Danish researchers analyzed, recently published in the American Journal of Hypertension, examined 25 previous salt studies and found that individuals who consume lower levels of salt may have a higher risk of death. The article explained that, while very high levels of salt intake (above 12,000mg per day) may have fatal consequences, the safest range may be between 2,600 and 4,950mg per day (way beyond the 1,500mg currently endorsed by the CDC).
My view is that the problem is more about the types of foods we eat that supply the majority of our dietary salt intake — processed foods like pizza, frozen entrées and packaged snacks. Such foods are responsible for about 75 percent of our sodium consumption, according to the American Heart Association. Coincidentally, these are often foods that are already unhealthy and easily overeaten.
Here are some examples of unhealthy salty sources, and healthy salty foods:
Not-so-healthy salty foods:
Lean Cuisine Shrimp Alfredo Frozen Entrée (630mg per entrée)
Oscar Mayer Deli Fresh Honey Ham (510mg per serving)
Pizza Hut medium pan pepperoni pizza (660mg per slice)
Prego Traditional Tomato Sauce (480mg per half cup)
Maruchan Instant Lunch: Chicken Flavor (1,190mg per container)
Healthy salty foods:
Chicken breast (91mg per breast)
Shrimp (260mg per 5 large shrimp)
The Good Bean Roasted Chickpeas, sea salt flavor (185mg per 1-oz. serving)
Zico Coconut Water (90mg per 11.2-oz. serving)
Celery (96mg per 3 medium stalks)
Carrots (84mg per 2 medium carrots)