Ben & Jerry's Unveils New Flavors Inspired by Saturday Night Live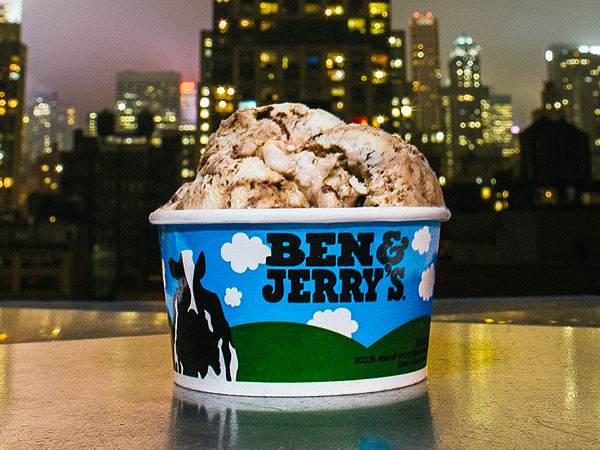 Courtesy Ben & Jerry's
Good news for ice cream lovers and Saturday Night Live fans (so, everyone?): Ben & Jerry's is celebrating the sketch show's upcoming 40th season with something sweet!

The ice cream giant has unveiled two flavors based on recent SNL sketches — and if you've been watching lately, these names will give away which ones. Introducing:
• Gilly's Catastrophic Crunch, a combo of chocolate and sweet cream ice creams mixed with caramel clusters, chocolate-covered almonds and a marshmallow swirl
• Lazy Sunday, a cake batter ice cream with chocolate and yellow cupcake pieces and a chocolate frosting swirl
Starting Thursday, both flavors are available at Ben & Jerry's Scoop Shops only. Read: Don't go rummaging around the freezer case at the grocery store.
Lazy Sunday is inspired by — you guessed it — the digital short 'Lazy Sunday' starring Andy Samberg and Chris Parnell. On their way to see The Chronicles of Narnia, Samberg and Parnell "hit up Magnolia and mack on some cupcakes," which inspired the ice cream's cake-batter base and cupcake mix-ins. We tried it, and just like Mr. Pibb and Red Vines, it's "crazy delicious."
Gilly's Catastrophic Crunch, pictured at top, is based on Kristen Wiig's mischievous elementary school student character who is always pulling pranks and getting her classmates to take the fall. Caramel and chocolate totally equals mischief, guys; don't question it.
Gilly's was the resounding favorite in our offices, but we'd also love to try a flavor based on the Target lady — our all time favorite Kristen Wiig character.
These two scoops aren't the first SNL-themed flavors, however. In 2011, Ben & Jerry's released Schweddy Balls, based on the show's NPR spoof starring Ana Gasteyer, Molly Shannon and Alec Baldwin. And there will be two more flavors coming this fall, when SNL's 40th season debuts. What sketches or characters would you love to see turned into ice cream flavors?
—Kristin Appenbrink