Bite Into Bakerella's Cookies & Cream Cheesecake Bars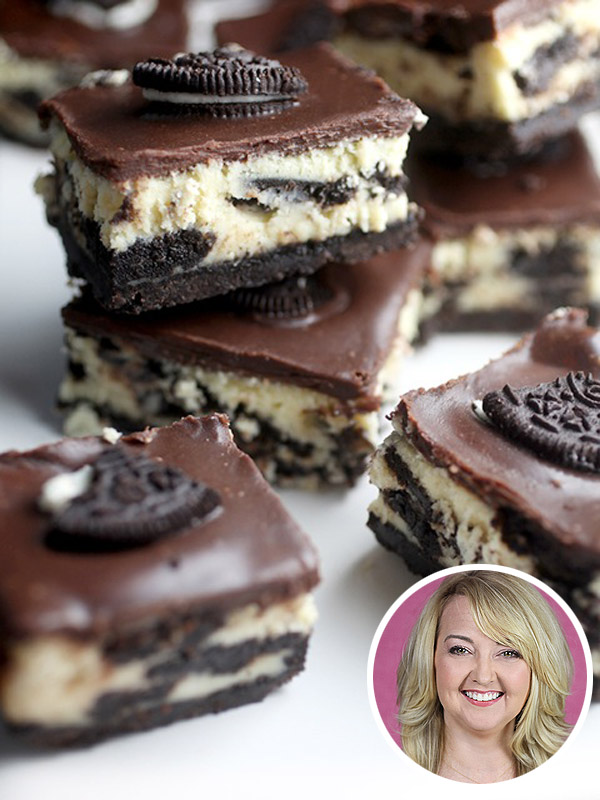 Courtesy Bakerella
Angie Dudley, a.k.a Bakerella, is the author of the New York Times best-selling book Cake Pops and creator of Bakerella.com. Visit PEOPLE.com on Fridays for her sweet spin on celebrity recipes and more.

Cheesecake is one of my favorite desserts, but I'd rather enjoy it in a small portion rather than a big, thick slice because it's so rich.
Individual New York-style cheesecakes like this recipe from N.Y.C. chef Kamal Rose are the perfect size. But my approach to making bite-size cheesecake is even easier: Instead of baking the cakes in individual liners, I like to make them in a baking dish — pouring the batter in one fell swoop saves time! Then, I can easily cut the finished cheesecake into small squares to enjoy and to share.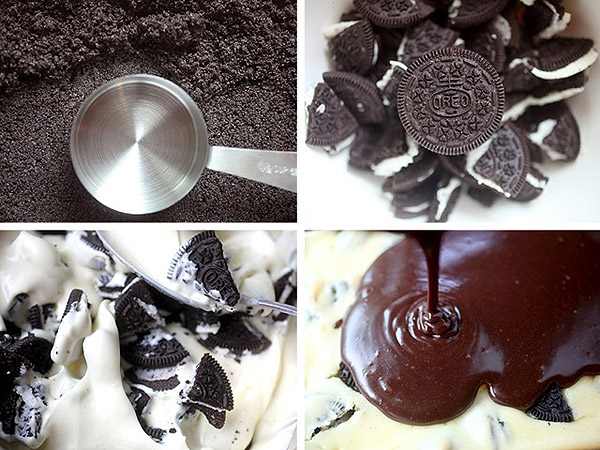 Courtesy Bakerella
To make these cookies and cream cheesecake squares, start with the crushed cookie crust for the bottom of the pan. Add broken cookie pieces to a homemade cheesecake batter, bake and then cover with chocolate ganache.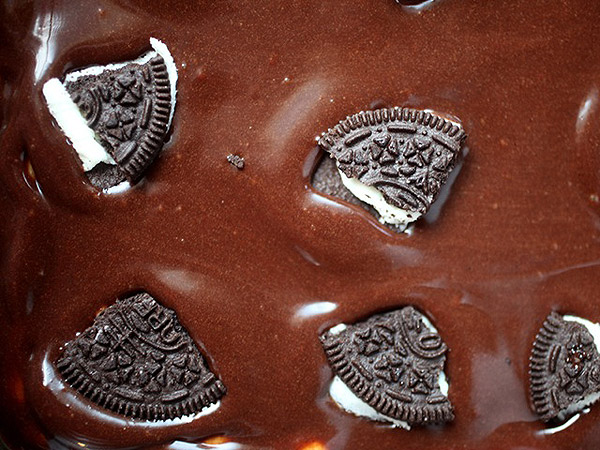 Courtesy Bakerella
Then, top the cake with more broken cookie pieces and you're almost done.
The hardest part: waiting for the cheesecake to chill overnight! But it's worth every minute. Once it's chilled, grab a knife, cut small squares and sink your teeth into these sweet little treats.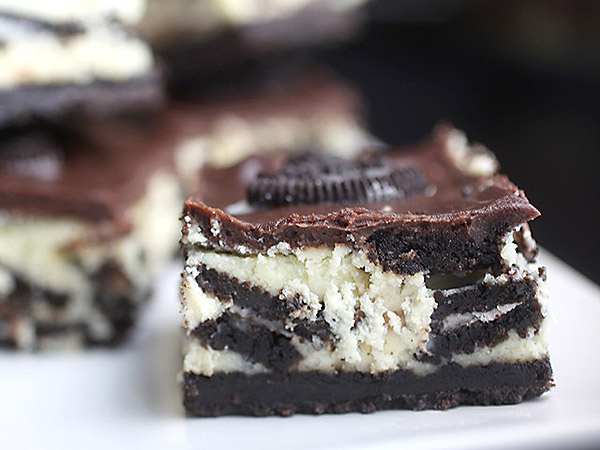 Courtesy Bakerella
Cookies & Cream Cheesecake Bars
Makes 25
Crust
18 Oreos, crushed into crumbs
2 tbsp. sugar
5 tbsp. butter, melted
Cheesecake Filling
12 oz cream cheese, softened
½ cup sugar
1 tbsp. flour
1 egg, plus 1 yolk
½ cup sour cream
1 tsp. vanilla
12 Oreos, broken into pieces
Chocolate Ganache
½ cup heavy whipping cream
2 tbsp. butter
¾ cup semi sweet chocolate chips
⅛ cup powdered sugar
6 Oreos, broken into pieces
1. Preheat oven to 325 degrees.
2. To make the crust, mix cookie crumbs and sugar together in a medium bowl. Add melted butter and stir until completely combined.
3. Using the bottom of a glass or measuring cup, firmly press mixture into the bottom of an 8″x8″ baking dish. Bake for 10 minutes, then remove from oven and let cool.
4. To make the cheesecake filling, add sugar, cream cheese and flour to a large bowl. Using a mixer on medium-high speed, cream mixture until combined.
5. Turn mixer to low and add egg and yolk, mixing until combined. Add sour cream and vanilla and mix until combined.
6. Stir in broken cookies and pour batter on prepared crust. Bake for 35-40 minutes, then remove and let cool completely.
7. To make ganache, add cream and butter to a saucepan and heat on stove, removing just before boiling.
8. Place chocolate in a large heat-proof bowl and immediately pour cream over it. Let sit for a minute and then stir until completely combined.
9. Add powdered sugar and beat with a wire whisk until smooth. Pour over cooled cheesecake and top with remaining cookie pieces. Cover and refrigerate overnight.
10. Cut into bars and serve.