Hungry Girl: Healthy Snacks You Should Always Have in Your Bag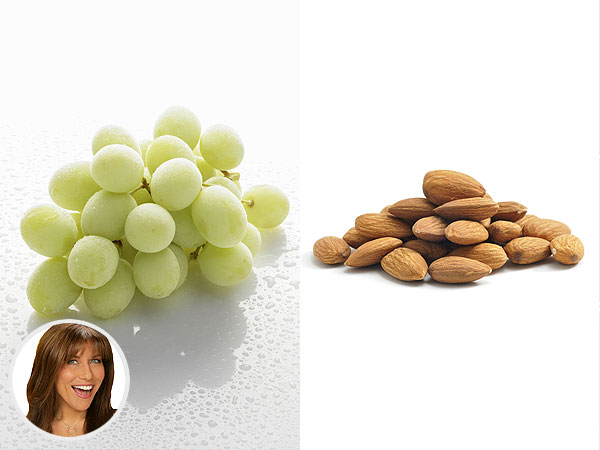 Courtesy Getty; Inset: Courtesy Hungry Girl
Lisa Lillien is the author of the popular Hungry Girl website and email newsletter, featuring smart, funny advice on guilt-free eating. She is also the author of nine books, six of which debuted at number one on the New York Times Best Sellers list. Read her PEOPLE.com blog every Monday for slimmed-down celebrity recipes and more.

Between filmings, photo shoots and premieres, it seems like celebrities are always jetting off somewhere fabulous. The rest of us are just as busy (for probably slightly less glamorous reasons), but one thing's the same: We all need good-for-you snacks to eat while out and about.
Here are some healthy food ideas that will get you through your hectic day:
1. A few emergency snacks that can always be found in my purse: Jerky (surprisingly low in fat!) and 100-calorie packs of almonds. I love them both because they're filling and can easily fit into an overstuffed bag!
2. A fresh-fruit platter isn't practical for toting around, but packing an apple or banana to go is always a good idea. The natural fiber will keep you full. And here's a fun tip for summer: Freeze grapes overnight, and grab 'em on the way out the door. Delicious and refreshing.
3. Tempted by the PB&J cupcakes at Magnolia Bakery (of Sex and the City fame)? You'll love Peanut Butter & Jelly Lärabars. They're a little indulgent — 210 calories and 10g fat in one bar — but, unlike many snack bars, they're made with healthy ingredients you can actually pronounce: dates, peanuts, unsweetened dried cherries and sea salt. Perfect for an on-the-go sweets fix.
4. If you're Jillian Michaels, the occasional decadent chocolate dessert won't derail your eating habits too badly. But if you're having a chocolate craving and aren't in the mood to burn off a zillion extra calories, pack a Quest Double Chocolate Chunk Bar. Each one is 160 calories, crazy tasty, and loaded with both fiber and protein.
'Til next time… Chew the right thing!