Phone to Table: FarmVille Releases Recipes You Can Make at Home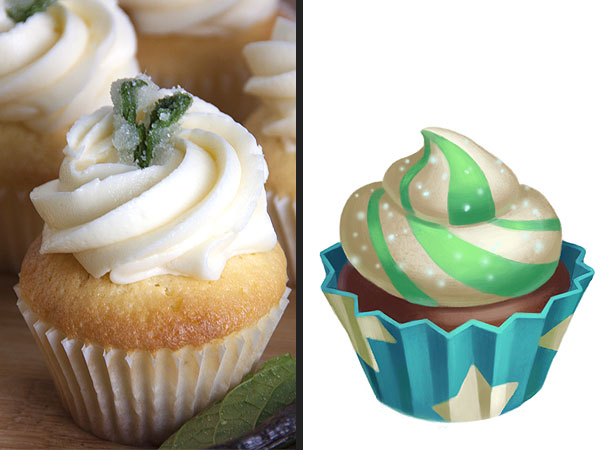 Courtesy FarmVille
Haven't tended to your FarmVille crop in a while? It's time to get cooking — literally!

To celebrate the game's 5th birthday (yup, you've been procrastinating with plowing fields and raising livestock for five full years), game creator Zynga is rolling out a series of in-game dishes made with your virtual harvest — along with corresponding real-world recipes.
Starting Thursday, whip up a virtual feast of foods — blackened catfish sweet potato fries, raspberry ice pops — in a summer cook-off in FarmVille 2: Country Escape; then, hit your home kitchen to make the same dishes for dinner.
The recipes, from Zynga executive chef Matty DuTrumble, will be featured in the upcoming FarmVille to Table cookbook (clever, guys), but DuTrumble gave PEOPLE the scoop on a few highlights.
The vanilla cupcakes, pictured above, are made with cake flour for maximum fluffiness and topped with a homemade mint buttercream frosting.
The grilled cheese, served on a homemade biscuit, looks nothing like the virtual grilled cheese, but we won't complain. It's an easy, cheesy fix (and can even double as breakfast).
Whip up both tonight for a dinner-dessert one-two punch!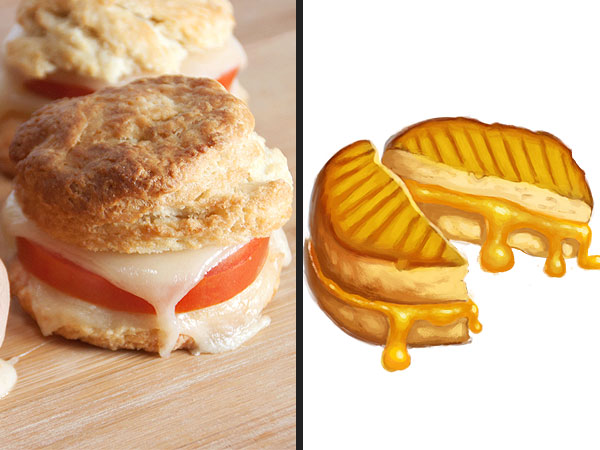 Courtesy FarmVille
Grilled Cheese
Makes 10
3¾ cup flour
2 tbsp. sugar
4 tsp. baking powder
1 tsp. salt
1 tsp. baking soda
1 cup butter, cold cubed
1 cup buttermilk
10 slices tomato
20 slices cheese (cheddar or Gruyère)
Salt, to taste
Pepper, to taste
1. Preheat oven to 375 degrees.
2. In a medium bowl, combine flour, sugar, baking powder, salt and baking soda. Cut in butter until mixture is crumbly; add buttermilk until moistened to become dough.
3. Roll out dough on floured surface and cut into desired size and shape (roughly the size of an English muffin).
4. Place on baking sheet and bake for 15 minutes, or until golden brown. Once cooled, cut the biscuits in half and toast so that the inside is lightly browned
5. Create a sandwich using a slice of tomato and two slices of cheese as "bread." In a non-stick pan, sauté each side just like you would a grilled cheese.
6. Once the cheese is melted, salt and pepper each side and place between the toasted biscuit halves. Repeat with other 9 sandwiches.
Vanilla Mint Cupcakes
Makes 12
2 eggs
½ cup butter, at room temperature
⅔ cup + ¼ cup sugar, divided
1 tsp. vanilla extract
1¾ cups cake flour, sifted
2 tbsp. baking powder
¼ tsp. salt
½ cup milk
⅛ tsp. cream of tartar
Mint frosting (recipe below)
1. Separate eggs when they're cold. Cover and let them come to room temperature. Preheat oven to 350 degrees.
2. In a large bowl using an electric mixer, beat butter until soft. Add ⅔ cup sugar and continue beating until light and fluffy. Slowly add egg yolks and vanilla. Mix until fully incorporated.
3. With the mixer on low, alternately add flour, baking powder, salt and milk, beginning and ending with flour.
4. In a clean bowl, whisk egg whites and cream of tartar until they hold soft peaks. Gradually add ¼ cup sugar and continue beating until they hold stiff peaks. Using a spatula, fold egg whites into cake batter.
5. Pour batter into lined cupcake tins and bake for 20 minutes. Once fully cooled, frost with mint frosting.
Mint Frosting
½ cup unsalted butter, room temperature
3-4 cups confectioner's sugar
¼ cup milk
½ tsp. pure vanilla extract
⅛ tsp. pure peppermint extract
1. In the bowl of an electric mixer, cream butter until smooth and creamy, 2-3 minutes.
2. With mixer on low speed, add 3 cups sugar, milk, and both extracts; mix until light and fluffy. If necessary, gradually add remaining cup of sugar to reach desired consistency.