All the Details on Katie Couric's Strawberry-Lemon Wedding Cake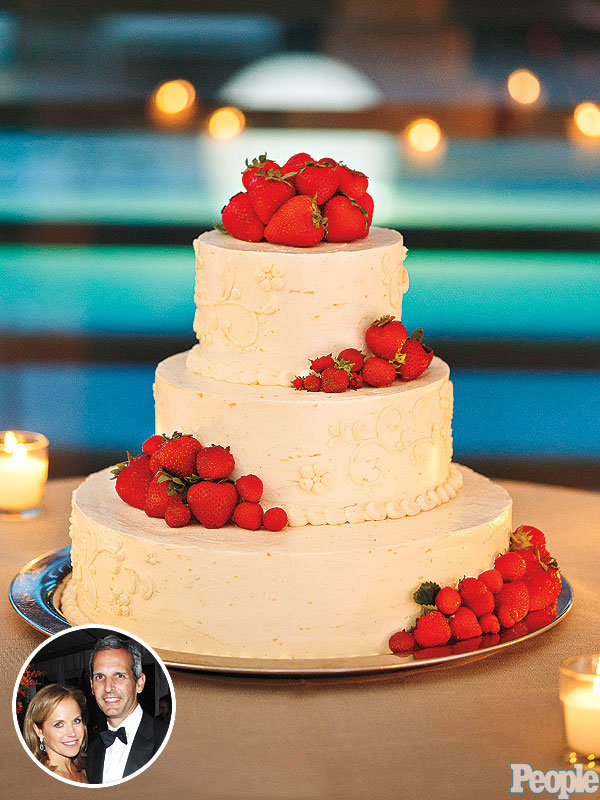 Brian Dorsey Studios. Inset:Owen Hoffmann/PatrickM
Most brides-to-be have a vision for the type of cake they want, and Katie Couric — who celebrated her wedding to John Molner on Saturday with a reception at the Topping Rose House in Bridgehampton, New York — was no different.

"Katie understood that the dinner was going to be long so she wanted the cake to be light and fresh rather than a heavy ending," Topping Rose House pastry chef Cassandra Shupp told PEOPLE. "My goal was to make a cake that was simple, classic and light for her."
With that end in mind, Shupp suggested a strawberry-lemon cake paired with the hotel's house-made lemon thyme and strawberry sorbets.
Of course, when you're in the market for a strawberry wedding cake, it helps when your venue is not only known for its outstanding food (the restaurant at hotel is overseen by Top Chef judge Tom Colicchio), but also happens to have its own patch of the summer fruit.
"We have a one-acre farm on property, so I spent the week before and even the morning of the wedding gathering strawberries for the cake," said Shupp.
The round, three-tiered dessert consisted of a delectable-sounding combination of a lemon-sourcream cake, a jam-like filling made with strawberry juice, and sliced fresh strawberries. Shupp finished the cake with lemon buttercream frosting and accented each tier with elegant, white-on-white piping and whole strawberries in assorted sizes.
The cake was displayed throughout the dinner, which was held in the hotel's modern event space called The Studio, and later served in the restored barn, where Couric, Molner and their guests enjoyed dessert. "I tried to make it beautiful from every angle and I was really happy with the way it turned out," Shupp said.
It's possible that Molner may have had his own thoughts about the cake as well: Couric told PEOPLE before the wedding that he was quite involved in the planning process. "I call John 'Groomzilla!' We're a very modern couple," she said.
Shupp said that there was "definitely a lot of back-and-forth conversation" between Couric and Molner during their meeting to discuss the cake. "It was pretty cute to watch. They were adorable when they came in and they really were the sweetest couple," she said.
For more exclusive photos of Katie Couric's wedding, pick up the latest issue of PEOPLE, on newsstands Friday.

—Lexi Dwyer