Recipe Redo (Guilt-Free!): Armie Hammer's Mexican Brownie Bites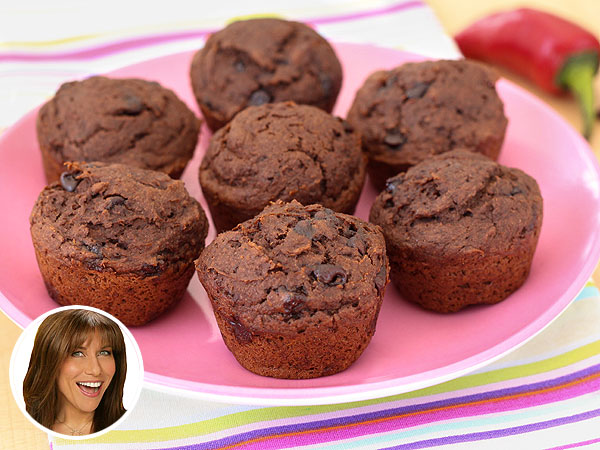 Courtesy Hungry Girl(2)
Lisa Lillien is the author of the popular Hungry Girl website and email newsletter, featuring smart, funny advice on guilt-free eating. She is also the author of nine books, six of which debuted at number one on the New York Times Best Sellers list. Read her PEOPLE.com blog every Monday for slimmed-down celebrity recipes and more.

Armie Hammer had us seeing double when he played the Winklevoss twins in The Social Network; then he flew solo as the Lone Ranger. (Kind of. Can a ranger really be considered "lone" if Johnny Depp is riding at his side?) Next, he'll be in the movie version of The Man from U.N.C.L.E., but I'm most excited about his work in the kitchen. Why? Apparently, his go-to dessert is a batch of spiced-up brownie bites.
The idea of adding spice — preferably cayenne pepper — to decadent brownies is straight-up brilliant. And I know a thing or two about making lightened-up brownies that are moist and delicious — mixing fiber-packed pumpkin puree into chocolate cake mix is one of my go-to moves, and it gives the brownies an amazing texture. Add a few more special ingredients, and you've got a tasty treat that'll allow you to stay in movie-star shape.
'Til next time… Chew the right thing!
Hungry Girl's Mexican Mini Yum Yum Brownies
Makes 24 servings
1 box moist-style devil's food cake mix (15.25 – 18.25 oz.)
1 15-oz. can pure pumpkin
2 tsp. vanilla extract
1 tsp. cinnamon
1/4 tsp. cayenne pepper
1/2 cup mini semi-sweet chocolate chips
1. Preheat oven to 400 degrees Fahrenheit. Spray two 24-cup mini muffin pans with nonstick spray.
2. In a large bowl, combine cake mix, pumpkin, vanilla extract, cinnamon and cayenne pepper. Mix until smooth and uniform. Batter will be thick. Fold in chocolate chips.
3. Evenly distribute batter among the cups of the muffin pans, and smooth out the tops.
4. Bake until a toothpick inserted into the center of a muffin comes out clean, about 8 minutes. Enjoy!
1 serving (2 brownie bites): 107 calories, 2.5g fat, 169mg sodium, 20g carbs, 1.5g fiber, 11.5g sugars, 1.5g protein