Alex Guarnaschelli: Cooking Fish at Home is Easier Than You Think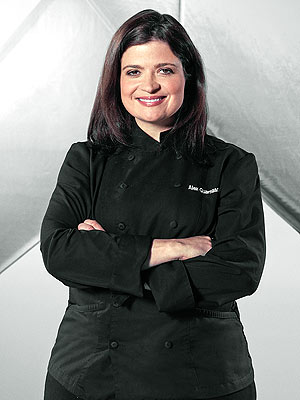 Courtesy Alex Guarnaschelli
Alex Guarnaschelli is an Iron Chef, Food Network celebrity chef and the executive chef at New York City's Butter restaurants. Read her PEOPLE.com blog every Tuesday to get her professional cooking tips, family-favorite recipes and personal stories of working in front of the camera and behind the kitchen doors. Follow her on Twitter at @guarnaschelli.
I feel like fish is a never ending source of consternation for home cooking. And to me, it makes total sense. It's expensive, it's often hard to get, it's hard to know what to buy, and yet it's so delicious.

Every chef has their own ideas about fish. I know that mine come from doing nothing but cutting and cooking fish for almost three years of my life in a great restaurant in Paris. I toiled in a basement with just me, a cutting board and cases of fish — everything ranging from 35 pound whole turbots to tiny fresh sardines. I spent almost six months bumbling around with a filet knife and another six trying to get the seasoning and cooking just so…I feel like maybe this is a lifelong endeavor.
So how to attack the topic at home especially during the summer months when grilling and lighter meals are the order of the day? Where I live, there is a lot of fluke, bluefish, mackerel and tilefish. I tend to gravitate to what is local. I never go to buy a piece of fish with a recipe in mind. That way, I am not bogged down by one idea and can focus on buying what's freshest. Then, I go home and research recipes. It's the reverse of my strategy for most other dishes — especially elaborate desserts — where I start with the recipes and then go grocery shopping. My father always reminds me of a moment in his own childhood where he went to buy some lobsters with his grandmother. Apparently, she walked into the store and examined a tank of live lobster. The water was clear, the lobsters were lively. She stared at the tank and turned to my father and simply said "Not fresh."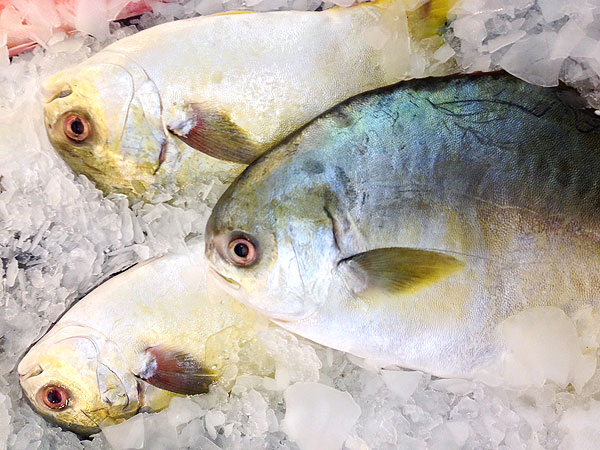 Courtesy Alex Guarnaschelli
We all have our ideas of what's good and fresh. I always ask the people working in the store what they recommend that day. Then, I add in a few rules of my own. I look for clear, vibrant skin tones, clear eyes (if fish is whole) and unblemished flesh. I prefer to buy filets rather than fish that has already been cut into portions. I always try to buy fish that is as whole as possible. If you are not comfortable cutting fish, see if your market will do it for you.
I asked some of my fellow Chopped judges what they look for in fish. My buddy Marc Murphy loves striped bass, especially the way the skin gets really crispy. "It also holds up to some seriously bold sauces. Whole grain mustard. Capers, lemon and parsley. I love the French flavors with striped bass," he says. Choosing a fish that has wonderful skin is a good factor to consider. I personally love striped bass, salmon or mackerel for tasty skin to go with the meat.
My other fellow Chopped judge, Chris Santos, loves skate. (A favorite of mine too.) And it's cheap! Skate has wonderful white meat and is delicate when paired with lemon or vinegar. "I think it's my Rhode Island roots and I'm a sucker for good fish and chips! I also love it cornmeal crusted with a splash of vinegar," he says. I would have never thought of skate for that. Finding fish with a reasonable price tag is another important consideration, and skate is generally pretty budget-friendly.
There are other great affordable fish choices that don't get as much love as they should. Pollack and haddock are prime examples. They are delicious gently poached with lemon or simply breaded and pan fried. Fish, like fruits and vegetables, has its seasons. Check out the Monterey Bay Aquarium website and download their "Seafood Watch" cards, which will help you make better choices about buying in-season, sustainably raised fish.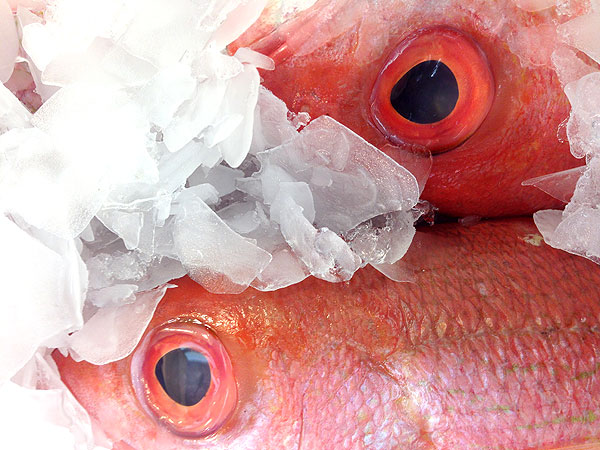 Courtesy Alex Guarnaschelli
In the meantime, this weekend, I think I'll try a whole bluefish with a thin layer of mayonnaise (yes, mayonnaise!) wrapped in foil and popped on the grill. A few lemon wedges and some fresh dill will be great to top it off. I may even wrap the fish up the night before and just cook it the day of. Whatever you make, don't be hard on yourself. We are often our own worst critics. Buy and cook what you love and makes you happy.