Make Carrie Underwood's Fresh Blackberry Jam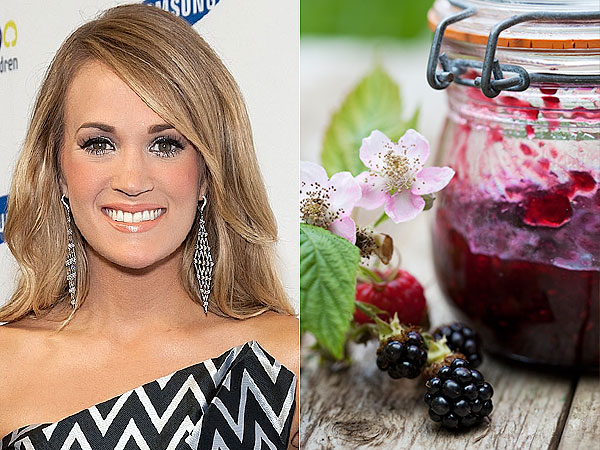 D Dipasupil/FilmMagic
When Carrie Underwood asked, "Who wants wild blackberries?!" on Instagram alongside a photo of her collecting summer berries, we thought, well, we do!

The country star went blackberry picking in Nashville on Monday with her friend Ivey Childers — and then turned their harvest into a buffet of berry-filled treats.
"This will be the first of many blackberry picking outings for us. It was so fun and therapeutic," said Childers, the owner of IveyCake bakery. "Neither of us mind sweating and getting in the middle of thorns to get to the fruit."
Toting a straw basket, "Carrie loaded up a backpack with a portable speaker, [and] we mostly listened to Brad Paisley and 80s & 90s country while picking berries," she said.
So, what did pair make with their berry harvest?  Their impressive baking list included blackberry pie topped with a lattice crust, blackberry cobbler, blackberry doughnuts and fresh blackberry jam.
"We have always talked about how fun it would be to make our own homemade jam," said Childers, who created Underwood's wedding cake in 2010. "Since blackberries are in season, we decided to start with that flavor."
At the end of the day, Underwood and Childers each took some jam home — and Childers later used her batch as inspiration for her latest cupcake creation, lemon blackberry with blackberry frosting. Just mix some jam into your frosting recipe and cake batter or use it as a cupcake filling, she suggests.
"I have always told Carrie she has a natural touch for baking," said Childers. "She bakes and cooks phenomenally."
Want to make the versatile (and delicious!) jam at home? Try the recipe below — it takes less than ten minutes to cook.
Blackberry Jam
4 cups freshly picked blackberries
½ cup raw sugar
½ cup maple syrup
4 tbsp. cornstarch
½ tsp. ground cinnamon
½ tsp. lemon juice
1. In a large saucepan, heat all the ingredients over medium high heat, stirring occasionally until sugar is dissolved and mixture becomes thick, about 10 minutes.
2. Remove from heat and allow to cool. Pour mixture into mason jars, and store in the fridge.
—Michelle Ward