Alie & Georgia: Escape the Heat with Tropical Coconut Mojitos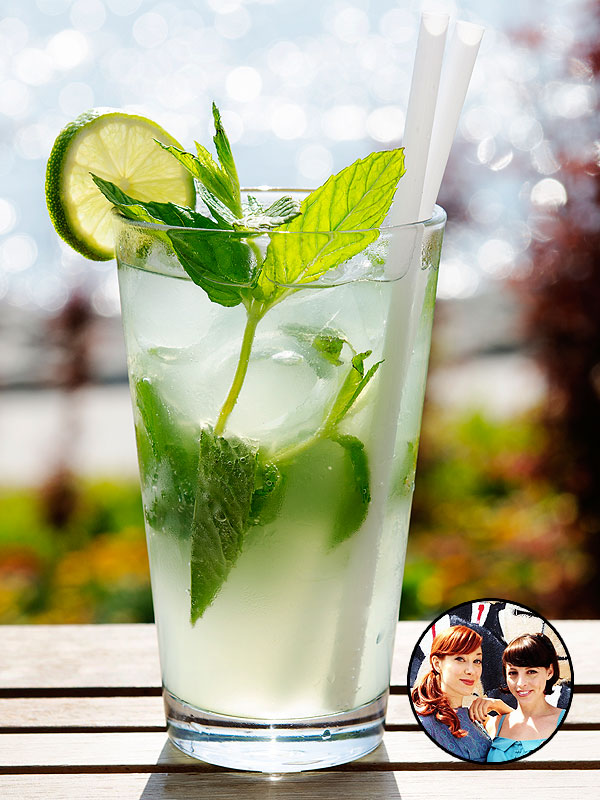 Courtesy Alie & Georgia; Getty
Alie Ward and Georgia Hardstark, a.k.a. Alie & Georgia, host Cooking Channel food-travel series Tripping Out with Alie & Georgia. Visit PEOPLE.com every Thursday for their playful spins on celebrity recipes, cocktails, entertaining ideas—and, of course, lots of laughs!

If there's one thing we love, it's a icy, refreshing cocktail on a hot day. If there's two things we love, the other thing is an icy, refreshing cocktail that won't shoot our day's calorie intake through the roof.
A classic mojito is rum, lime, sugar and mint topped with sparkling water. While we applaud Jennie Garth's Coconut Mojito for adding a tropical spin on the cocktail, the addition of coconut cream and sugary soda makes it stray very far from the second thing we love.
Below is our take on a coconut mojito that will satisfy your craving for a cool beverage, without breaking the calorie bank.
Alie & Georgia's Coconut Mojito
Makes 1 cocktail
2 oz. coconut rum
1 oz. coconut water
½ oz. simple syrup
¾ o.z fresh lime juice
3 fresh mint leaves
Place mint leaves and simple syrup at the bottom of a tall, frosty glass and muddle well.Add the remaining ingredients along with ice cubes and stir well. Garnish with lime wedge and a fresh mint leaf.