Exclusive: How Jessica Simpson Planned Her 6-Layer Wedding Cake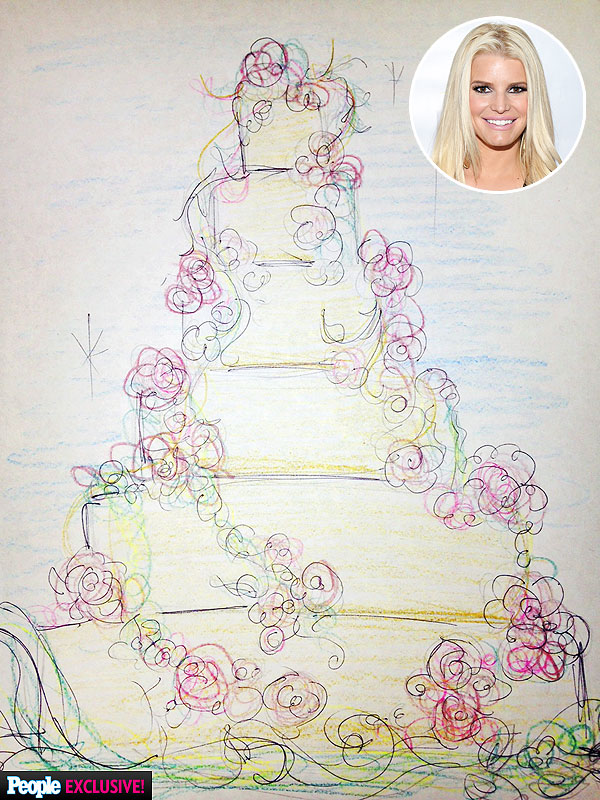 Courtesy Joanie and Leigh's Cakes; Inset: Rommel Demano/Getty
Forget flour and butter: The perfect wedding cake starts with pen and paper, if Jessica Simpson and Eric Johnson's incredible 6-tier confection is any indication.

Joan Spitler of Joanie and Leigh's Cakes in Bel Air shared exclusive details with PEOPLE of the towering cake she and her team created for the couple's July 5 nuptials, including a look at the sketch that started the bakery's design process.
The cake was covered in a burnished gold fondant "to tie in with [Jessica's] dress detail," she tells PEOPLE. "And then the flowers are sort of in that unkempt, garden feel of the wedding."
A layer of fluffy Italian meringue buttercream also covered the cake, which featured alternating layers of coconut cake with a coconut cream filling and vanilla cake with mixed berries and cream — flavors chosen after Spitler sent the bride and groom five tiny cakes to test at home.
"Jessica likes really delicious, traditional sort of American-style cakes," Spitler says. And just in case six layers weren't enough for the occasion, "we made a lot of extra, because it's so delicious."
The bakers (formerly known as the Cake Divas) collaborated with Simpson's celebrity event planner, Mindy Weiss, and Los Angeles florist Mark's Garden, who created a 2-foot stand for the cake.
"We worked with Mindy a lot so that everything would tie in with the whole look and décor of the room," Spitler says, adding that the whole process took "probably about a month."
For more details on the cake and exclusive photos of the wedding, pick up the new issue of PEOPLE, on newsstands Friday.
—Ana Calderone