A Sweet Snack: Bakerella's Strawberry & Cream Scones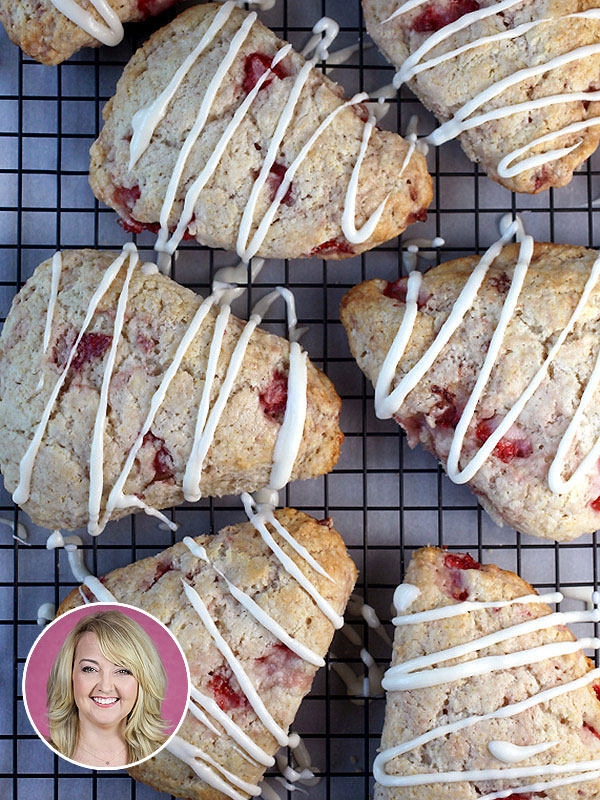 Courtesy Bakerella
Angie Dudley, a.k.a Bakerella, is the author of the New York Times best-selling book Cake Pops and creator of Bakerella.com. Visit PEOPLE.com on Fridays for her sweet spin on celebrity recipes and more.

These crumbly single-serving cakes are just the right size to start your day — or end it!
In fact, I'll be enjoying my scones for dessert so I can start the day with the Strawberries and Cream Mini Muffins that inspired them.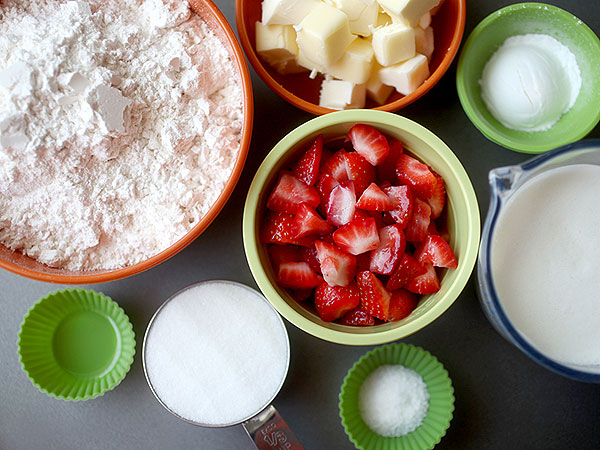 Courtesy Bakerella
The ingredients for the scones are simple and the steps are easy. Feel free to swap out the strawberries for blueberries… or even chocolate chips.
Enjoy the fruits of your labor plain or drizzled with a little almond icing.
Is anyone else inspired to throw a tea party right now?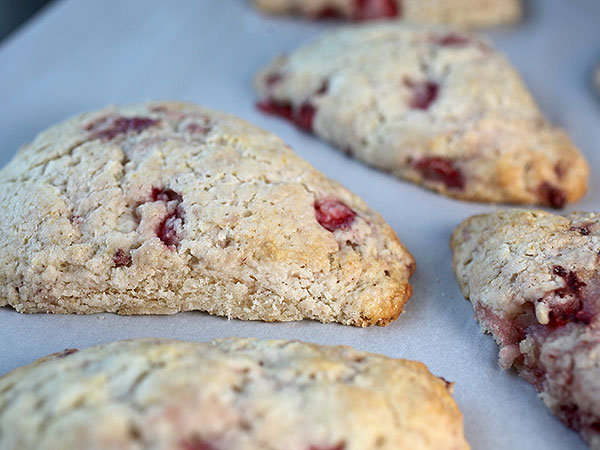 Courtesy Bakerella
Strawberry Scones
Makes 8
2½ cups all purpose flour
1 tbsp. baking powder
⅓ cup sugar
½ tsp. coarse salt
6 tbsp. cold unsalted butter, cut into cubes
1 cup strawberries, cut into small pieces
¾ cup heavy cream
1 tsp. almond extract
Icing
1 cup powdered sugar
1-2 tbsp. butter, melted
½ tsp. almond extract
2 tbsp. heavy cream
1. Preheat oven to 400 degrees and line a baking sheet with parchment paper.
2. In a large bowl, mix flour, baking powder, sugar and salt with a wire whisk until combined.
3. With a pastry blender, cut butter into the flour mixture until coarse crumbs form. Toss in strawberries and gently stir to coat.
4. Add cream and extract and combine with a spatula, being careful not to over-mix dough.
5. Transfer dough to a lightly floured work surface and knead together a couple of times. Pat into a flattened circle and cut into 8 wedges.
6. Transfer wedges to prepared baking sheet about two inches apart. Brush tops with cream and sprinkle with sugar. Bake for 15-18 minutes.
7. Once cool, drizzle with icing if desired. To make icing, combine sugar, melted butter, extract and heavy cream and stir until blended and smooth.