WATCH: Our Favorite Six-Second Vine Recipes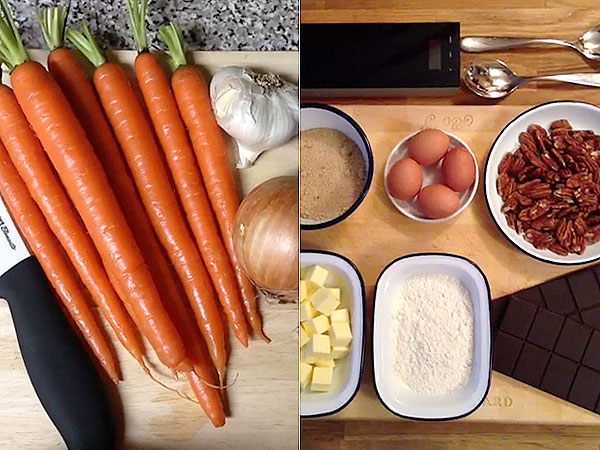 Courtesy Choochick; Courtesy Lee Murrell
Forget the dancing babies, scenic bike rides and dogs chasing their tails: A mini cooking lesson is the best use of the Vine video we've seen to date.

Video-crazed food lovers around the world are sharing step-by-step accounts of their favorite recipes. Yes, they're crazy-short, but the six-second length forces the cook to focus only on the most important steps.
Now, to say that you can actually learn to cook from these clips might be an overstatement. But we dare you to watch our six favorite videos below and not get inspired. And if you're hungry for more, check out this list of the site's most popular recipe hashtags.
A word of warning: Once you start watching these clips, you may find yourself completely addicted, to the point where you might not even feel like getting up to make dinner. There's something oddly soothing about looking at food cook on a loop.
Here's Lee Murrell's take on the pecan brownie recipe from Michel Roux's Desserts cookbook. If only we could jump into the screen and lick the bowl.
Choochick's Vine about carrot-ginger soup perfectly illustrates how raw ingredients can coalesce into something beautiful and delicious.
Ian Padgham of Origiful.com is a Vine guru: He spends his days crafting quick videos for big brands like NBC and Sony. He doesn't often feature food, but we're glad he shot this whimsical ode to morning coffee.
If you like bacon-wrapped dates around the holidays, you'll love this summery bacon-wrapped mango idea from Sapphire Kush, who gets major props for managing to squeeze information about the oven temperature, cooking time and basic directions into a six-second short.
Watching Karen Comas' elegant smoothie video gives us that feeling of possibility, like we could suddenly start whipping up a green juice for breakfast every morning.
Sometimes you just need someone to tell you what to make for dinner and how to do it, and Jennifer Shea Rawn does exactly that with her baked cod preparation.
—Lexi Dwyer