Kaley Cuoco Throws Her Husband a Surprise Party with a Pop-Up Cake and Real Mermaids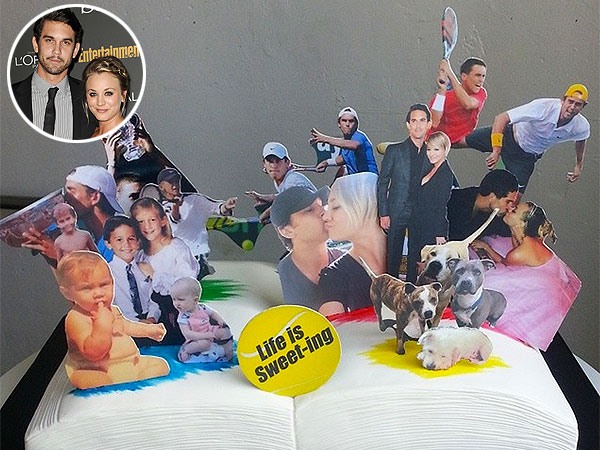 Courtesy The Butter End/Instagram
Kaley Cuoco, queen of amazing cakes, is back with another one — this time for the surprise birthday party she threw husband Ryan Sweeting on Saturday night.

The Big Bang Theory actress' secret weapon? L.A. bakery The Butter End Cakery, which also created the couple's infamous upside-down wedding cake in December.
Owner Kimberly Bailey got the idea for this "pop-up book cake" after Cuoco suggested a sheet cake with pictures of Sweeting on it, which would typically be made by printing photos onto sugar paper.
"I loved the idea of having [Ryan's] life chronicled on a cake, but photo cakes are flat and sugar paper is nasty to eat," Bailey tells PEOPLE. "So I thought, how can we incorporate the photos in an artful, fun way that you can see across the room? And then I thought, pop-up book."
The finished cake — chocolate chocolate chip frosted with vanilla bean buttercream and covered in white roll chocolate — featured shots of Sweeting chilling as a baby, playing tennis as a child and an adult, and posing with Cuoco, as well as photos of all four of the couple's dogs, all provided by Cuoco with help from Sweeting's mom.
"Kaley was so excited the whole time," Bailey says. "She has been sending me pictures for two months!"
Although we can't imagine anyone as excited as Sweeting himself when Cuoco unveiled the surprise bash:
Dozens of friends and family came to celebrate Sweeting, who turned 27 on Sunday. And we know one thing — no one went hungry!
"It was all what I call 'dude food,' says Meg Hall of Made By Meg catering in L.A., who has been working with Cuoco for years. Some highlights: mac 'n' cheese poppers stuffed with fresh lobster and topped with bacon and avocado, mini bags of Fritos filled with warm chili and cheddar cheese, and a burger bar with 12 toppings to choose from, including onion rings and ranch dressing.
"Kaley really wanted to make Ryan feel like this was his party, from the food to everything that happened," Hall tells PEOPLE. "Watching her plan this very thoughtful, really sweet birthday party for him was just such a testament to what a nice person she is. She loves making him feel special."
"Latergram of one of the most awesomest, most loving birthday parties we've yet to cater," Hall captioned this shot.
Hall also put together a candy station because "Ryan loves candy, he always has candy around," she says. "Which I think is very sweet, since his last name is Sweeting."
Guest devoured the sugary buffet — including Big Hunk bars (wink wink), chocolate balls (to represent tennis balls), Hot Tamales and German raspberry candy (two of Sweeting's faves) — but must have saved room for cake, if Cuoco's social media accounts are any indication. When half the "book" was gone, Cuoco clustered all of the photos on one side and posted an Instagram, calling it "another perfect cake."
With a light-up sign that read "Happy Birthday Ryan," some silly photo booth action and glam L.A. synchronized swimming troupe the Aqualillies "swimming and rockin out to One Direction on the sound system," according to Cuoco's Instagram (and dressed as mermaids, according to guests' photos), it sounds like the whole night — not just the cake — was pretty perfect.