Alex Guarnaschelli: The Ultimate Roasted Corn Recipe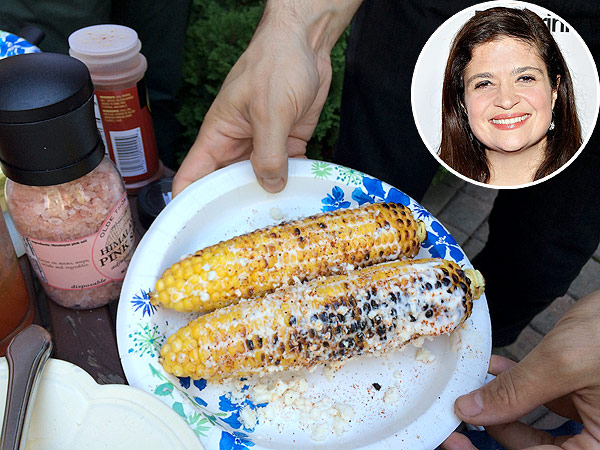 Courtesy Alex Guarnaschelli; Inset: Cindy Ord/Getty
Alex Guarnaschelli is an Iron Chef, Food Network celebrity chef, author of Old-School Comfort Food and the executive chef at New York City's Butter restaurants. Read her PEOPLE.com blog every Tuesday to get her professional cooking tips, family-favorite recipes and personal stories of working in front of the camera and behind the kitchen doors. Follow her on Twitter at @guarnaschelli.

It's hard to top the taste of corn bought from a roadside stand. I don't consider it essential to buy strictly organic corn. Save those extra dollars for foods that are more apt to contain heavy pesticides, such as spinach or delicate fruits like raspberries and strawberries. But I do try to buy corn locally.
I hit the beach for the first time this summer last weekend and finished the day with some burgers, corn and potato salad. Actually, my dinner became ear after ear of corn as my burger sat on my plate whimpering from neglect. What is it about eating corn straight off the cob that tastes just like summer?
When buying corn, I always pick the ones where the outer layers cling tightly to the cob. This is a sign that they are the most freshly-picked. Similarly, I avoid buying corn wrapped in plastic or trimmed on both ends for "easier" eating. While you save on prep time, they tend to be dry and not as fresh. Get rid of the inner layer of "silk" and wipe the corn with a damp cloth to remove any stubborn excess strands that may cling directly to the kernels.
If you are roasting the corn in the oven or cooking directly on the grill, leave the ears encased in their husks, turning them every 15–20 minutes. This method gently steams the corn making it juicy and imparting a light smoky flavor. I finish the corn by removing the outer layers and giving it a few more minutes on the grill or in the oven. The final step: brushing it with melted butter.
For a more intensely "charred" corn, hold a shucked ear of corn upright on a flat surface and slice the kernels off in rows. Drop them into a preheated sauté pan and toast them dry until they start to darken on all sides, 2–3 minutes. Add a touch of butter, a pinch of sugar, salt and cracked black pepper to finish. Remove from the heat. The kernels make a great ingredient for a homemade salsa or a salad.
Don't let those cobs go to waste. Use them to make a corn stock! Simply arrange them in the bottom of a pot and cover with water with a touch of salt. Simmer for 10 minutes. Remove from the heat, strain and reserve the liquid. Discard the cobs. Use as a base for a soup or rice pilaf.
Corn on the Cob with Aleppo-Garlic Butter
Makes 6 servings
Why aleppo pepper? The smoky Turkish pepper has a unique smoky flavor. It also rides the line between a sweet and a spicy flavor. This makes the corn taste like a better version of itself! If you can't locate aleppo, substitute the aleppo with cayenne pepper. If you don't like it spicy, simply omit the pepper altogether. I am a big fan of boiling corn. I match the amount of salt added to the cooking water with granulated sugar to intensify the sweet taste.
6 medium ears corn, shucked
6 tbsp. (¾ stick) unsalted butter
2 tbsp. packed dark brown sugar
4 medium garlic cloves, grated
2 tbsp. aleppo pepper (or 1 tbsp. cayenne pepper)
1. Preheat the oven to 350ºF.
2. Cook the corn: Bring a large pot of water to a boil. Add salt until it tastes like mild seawater. Stir in some sugar. Drop the corn into the boiling water and allow them to cook for 5 minutes. With a pair of tongs, remove the ears carefully from the water and transfer them to a kitchen towel to drain.
3. Prepare the butter: In a small saucepan, gently melt the butter. Use a small whisk to incorporate the brown sugar, garlic and Aleppo or Cayenne pepper.
4. Roast the corn: Stir the butter mixture with the brush, taking care to get sugar and Aleppo on the brush each time. Lightly brush the ears of corn on all sides with butter mixture and arrange them in a single layer on a baking sheet. Roast until they start to brown, 15 to 20 minutes. Remove from the oven and brush with the remaining butter.