Weddings at McDonald's in Hong Kong Include Balloon Rings, Tower of Apple Pies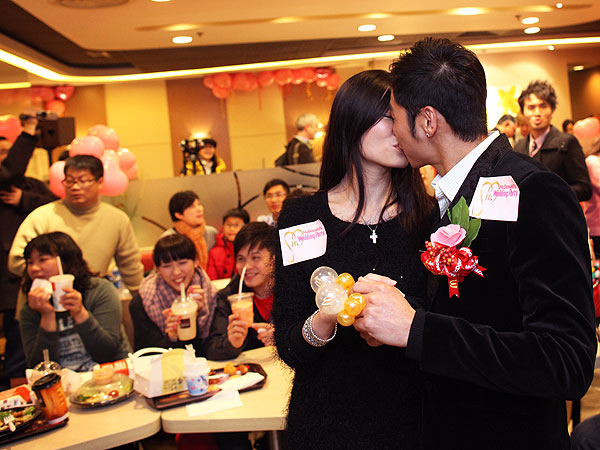 Ed Jones/AFP/Getty
Do you want fries with that wedding band?

Call it an Extra Value wedding: Some McDonald's locations in Hong Kong are now renting themselves out for marriage ceremonies and receptions, complete with a "cake" made out of a stack of the chain's iconic apple pies.
The idea of a McDonald's wedding has become so popular in the country that 15 locations are now doubling as venues, up from just three when McDonald's launched the idea in 2011.
"We started the program because many customers tell us that McDonald's is where they first started dating…McDonald's is where their love stories grew," a McDonald's spokeswoman told CNBC. "This connection is exactly why they want to hold their wedding parties and even anniversary parties at McDonald's — to relive sweet beginnings and bring their romantic story full circle."
So what exactly does a 2-hour McDonald's wedding include, besides the apple-pie cake? (Which would be reason enough alone to do this, really.) The premium package comes with McDonaldland character gifts for 50 guests, 50 invites, wedding gifts, a pair of McDonald's balloon wedding rings, a bridal bouquet, the apple pie cake display, a crystal McDonald's house, decorations, an emcee and more. Prices range from HK $9,999, or about US $1,290 to HK $2,888, about US $373.
But, for those looking for a sub-$400 wedding under the Golden Arches in the States, you're out of luck. The McDonald's spokeswoman told CNBC "this is something unique to McDonald's Hong Kong at the moment."
—Michelle Ward