Harley Pasternak: The Right Way to Eat Fruits and Veggies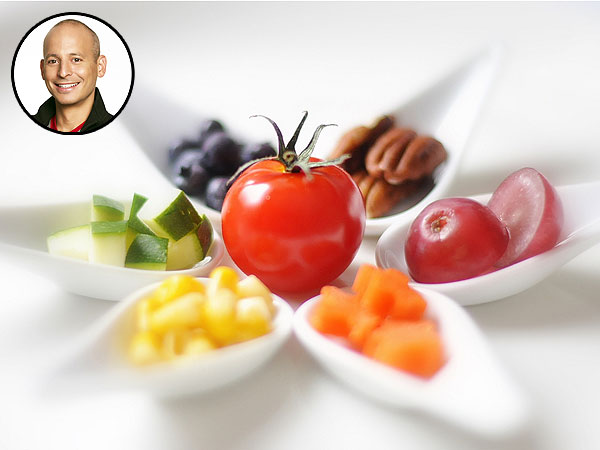 Laurianne Garraud/Getty
Harley Pasternak is a celebrity trainer and nutrition expert who has worked with stars from Halle Berry and Lady Gaga to Robert Pattinson and Robert Downey Jr. He's also a New York Times best-selling author, with titles including The Body Reset Diet and The 5-Factor Diet. Tweet him @harleypasternak.

If you're trying to lose weight, you have probably been told to eat more fruits and vegetables. That's a great start, but remember that weight loss isn't magic — no matter how healthily you're eating, at the end of the day you need to make sure you've taken in fewer calories than you've burned.
This idea is affirmed in a recent study published in the American Journal of Clinical Nutrition (June 2014), which found that simply adding more fruits and vegetables to a person's diet didn't translate to weight loss. Researchers emphasized the importance of combining a higher fruit and vegetable intake with reduced total energy (calorie) intake. The good news: Fiber-rich fruits and veggies are the perfect weight-loss partners because they help you feel full and satisfied even when you're eating fewer calories.
Other perks: Fruits and vegetables are an amazing source of vitamins, minerals, and other micronutrients, and they add variety and interest to meals.
Check out some appetizing ways to include fruits and vegetables in your meals and snacks — while still keeping portion sizes under control!
Mexicali Light Guacamole
Serves 6-8
¾ cup plain fat-free greek yogurt
½ cup chopped red onion
3-4 tbsp. chopped fresh cilantro (plus a sprig or two for garnish)
½ medium jalapeño pepper, chopped and seeded
Juice from one lime
1 tbsp. ground cumin (save a dash for garnish)
½ tsp. salt
3 ripe peeled Hass avocados, seeded and chopped
1 garlic clove, minced
Place all ingredients in a food processor or blender until almost smooth. Garnish with the sprigs of cilantro. Serve with cut veggies or bean chips.
Pineapple Kale Smoothie
Serves 1
8 oz. water (more or less, depending on preferred texture)
Juice from 2 lemons
1 scoop unsweetened protein powder
1 medium apple, chopped
2 cups kale, chopped
1 knob fresh ginger, chopped
½ cup frozen pineapple
Optional: Ice
Place ingredients into blender in the order listed above. Add ice if preferred. Blend until desired consistency is reached, adding more water to thin out if necessary.
Spring Vegetable Salad w/ Grilled Chicken
Serves 2
2 cups green beans, ends trimmed
2 small zucchini
6 cups mixed salad greens
4 tbsp. low-fat vinaigrette
2 cups carrots, shredded
2 thin slices red onion
4 oz. grilled chicken breast, sliced thin or chopped.
2 tbsp. crumbled goat cheese
2 tbsp. pumpkin seeds, toasted
Salt and pepper, to taste
1. Bring 4 quarts salted water to boil. Add green beans to boiling water and cook for about 1½ minutes, then plunge beans into a bowl of ice cold water to stop the cooking and chill. Remove from cold water, pat dry, and set aside, keeping cold water for next step.
2. Using a vegetable peeler, peel thin ribbons of zucchini that are thin enough to curl or fold over without breaking. Place ribbons in cold water until ready to use.
3. Toss greens lightly with ½ of dressing in large bowl. Season with pinch salt and pepper. Divide between two dishes.
4. Toss remaining dressing, carrot, onion, zucchini and chilled green beans. Season with salt and pepper and place on top of greens.
5. Add grilled chicken, goat cheese and pumpkin seeds. Serve.