6 Ridiculously Delicious Ways to Eat Watermelon This Summer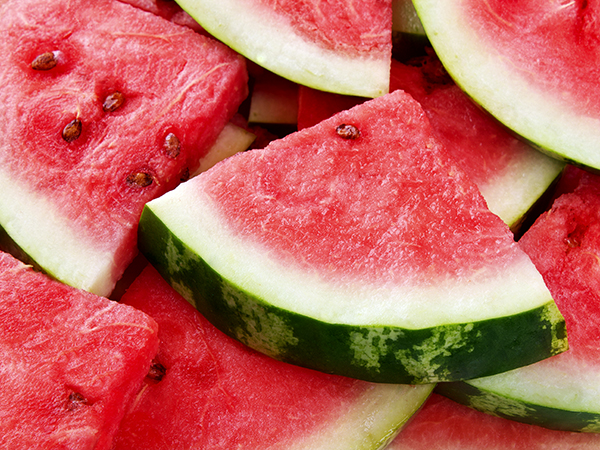 Getty
JUST ADD WATERMELON
We've got some juicy news for you: There's more than one way to slice a watermelon.

While a platter of wedges is still a crowd-pleasing way to wrap up any summer picnic or barbecue, this tasty pink-and-green fruit can also play a starring role in cocktails, main dishes, salads and even homemade gummy candy. (Yes, we said candy, and it's as awesome as it sounds.)
Check out these six tempting recipes from the food blogiverse, then get started planning a watermelon-themed menu for your next party. As the old camp song goes, "There's nothing quite as fine as a watermelon vine."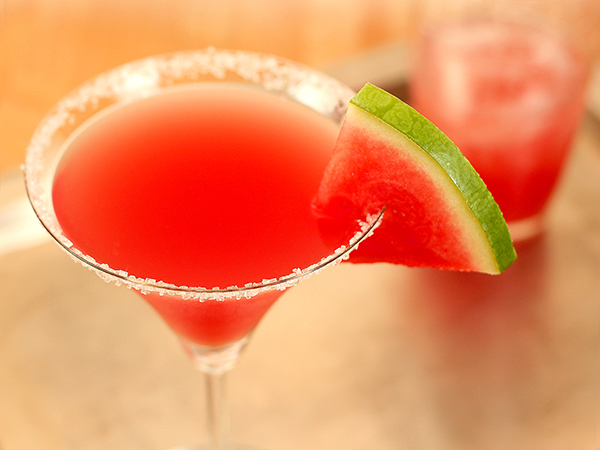 Barbara Kiebel
A VIBRANT COCKTAIL
To keep this cocktail from being overly cloying, Barbara Kiebel of Creative Culinary adds lime and orange liqueur (or, if she has it on hand, her homemade limoncello). Then she rims the glass with a fifty-fifty mixture of sugar crystals and kosher salt, which helps balance the intense watermelon flavor. Kiebel writes that she was lucky enough to get a watermelon that was so perfectly ripe that any additional sweetener "would have been overkill." If you prefer to add sugar, she suggests adding simple syrup to taste.
Get the Recipe: Fresh Watermelon Martini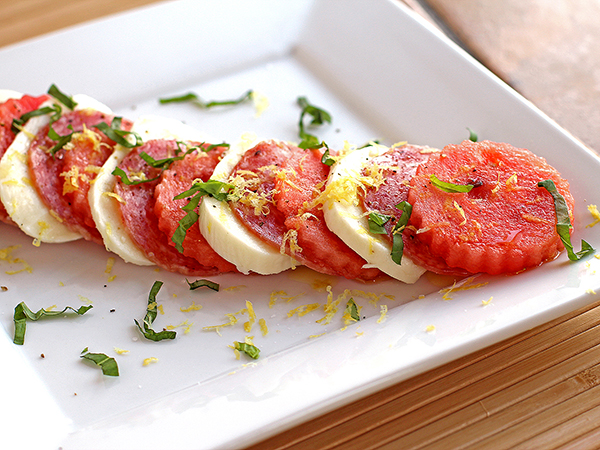 Rachael Bryant
CAPRESE SALAD WITH A TWIST
"The absence of tomatoes takes out all the acidity, which makes the fresh lemon zest sing all the more brightly," writes Rachael Bryant of Meatified about her tomato-free caprese salad. (Bryant is so well-versed in watermelon that you'll also find her homemade gummy candy recipe later in this slideshow.) To make it more of a robust evening meal, Bryant often adds a sliced Italian meat such as salami.
Get the Recipe: Watermelon Caprese Salad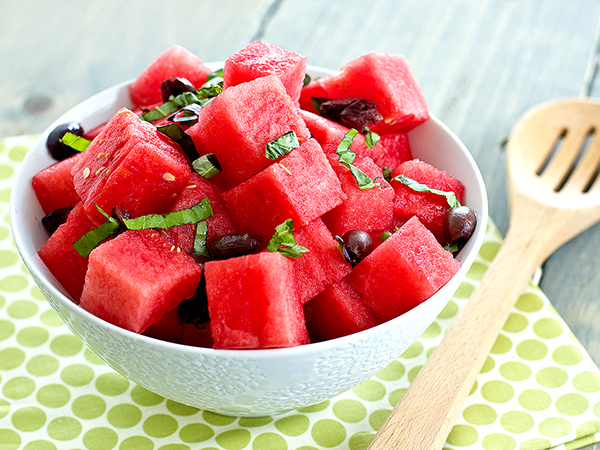 Kiersten Frase
A REFRESHING SIDE DISH
If you feel, as we do, that the watermelon-feta salad has had its moment, you'll love this side dish from Kiersten Frase of Oh My Veggies. It has that same sweet-meets-salty spirit, but Frase, who admits she's not a feta fan, uses kalamata olives to balance the watermelon flavor. A garnish of fresh basil adds just the right amount of brightness.
Get the Recipe: Watermelon with Kalamata Olives and Basil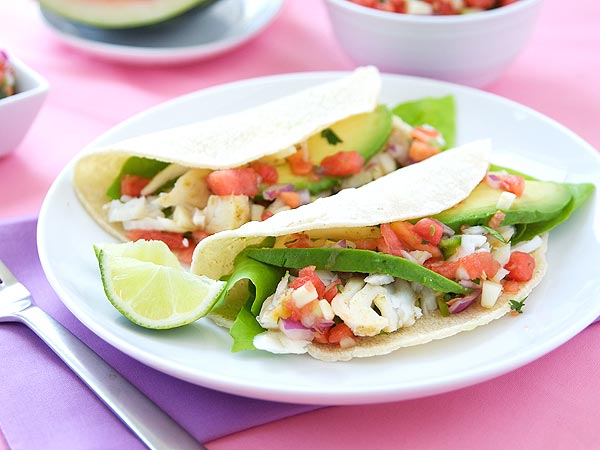 Corrine Fischer, MS, RD, LDN
FLAVORFUL FISH TACOS
To encourage kids to eat fish, pediatric dietician Corrine Fischer of Keep Your Diet Real suggests serving it in tacos paired with this tropically inflected watermelon salsa (for younger children, you may need to dial down the jalepeño accordingly). Wondering which type of fish will work best? Fischer suggests using Atlantic cod, tilapia, tuna, haddock, catfish or mahi mahi.
Get the Recipe: Fish Tacos with Watermelon Salsa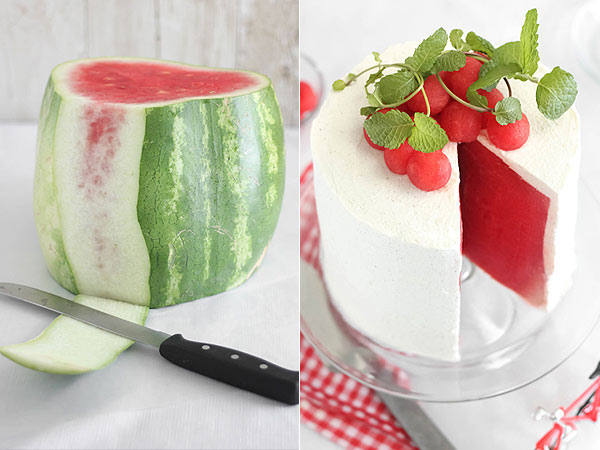 Heather Baird
FRESH WATERMELON CAKE
There's watermelon cake, meaning the batter itself has been flavored with watermelon, which in our opinion is a waste of eggs, butter and sugar. Then there's Heather Baird's genius interpretation: A whole melon that's been sliced into a cylindrical shape and  slathered with freshly whipped cream. Not only is it a gorgeous reimagining of a classic dessert, it's a fun way to surprise your guests at cake-cutting time.
Nervous about the slicing skills required? Just be sure your chef's knife has been sharpened recently and don't stress if the finished product isn't totally smooth. As Baird writes on SprinkleBakes, her blog, "The shape doesn't have to be anywhere near perfect, just do the best you can. The whipped cream will camouflage an uneven surface."
Get the Recipe: Fresh Watermelon Cake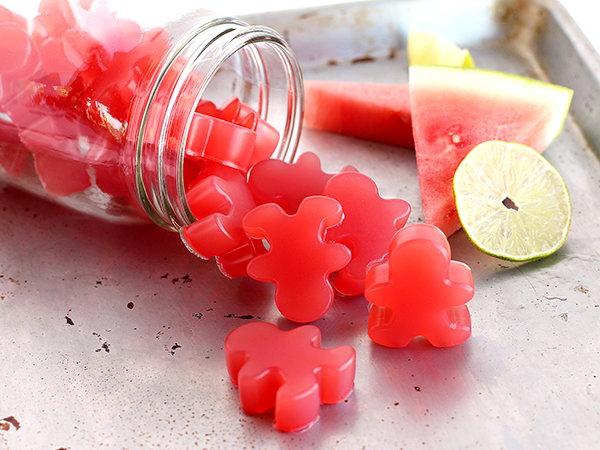 Rachael Bryant
HOMEMADE GUMMY CANDIES
When life gave her too much watermelon, Rachael Bryant, whose caprese salad is featured earlier in this story, had a genius solution: She made gummy candies. "One of the best ways to use up a large volume of watermelon is to juice it. But, personally, I'm not a juice fan … So what was I going to do with all this juice? Duh, make homemade gummies," she writes.
These adorable gingerbread-man–shaped treats might look like something you'd scoop up at a fancy candy shop, but Bryant's recipe is totally doable. Her secret weapons? A candy mold and Great Lakes Gelatin. If you're feeling guilty because you ate the whole batch at once, she has some good news: "Gelatin has fantastic health benefits … [it's] a source of eighteen different amino acids," she writes.
Get the Recipe: Sour Watermelon Gummy Candies
—Lexi Dwyer