No, Really, This Is the Most Expensive Drink Ever Ordered at Starbucks — For Now!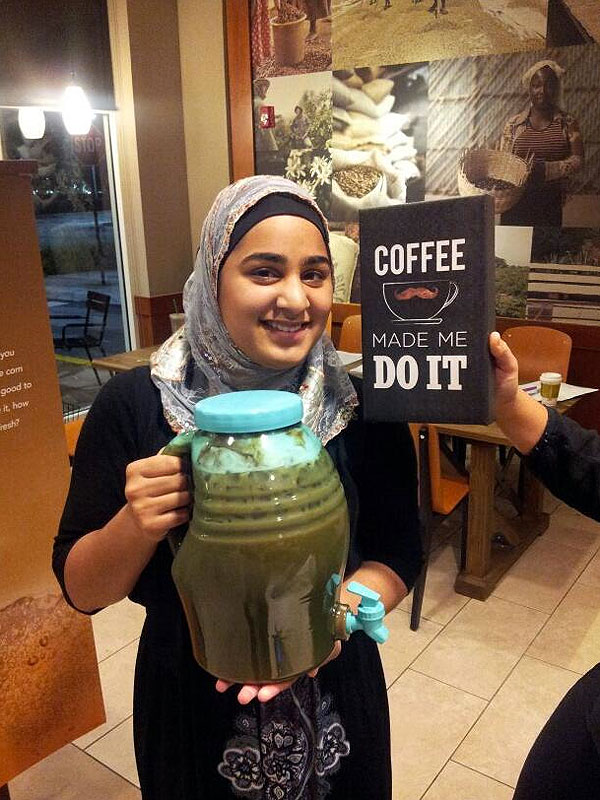 Courtesy Sameera Raziuddin/Twitter
Less than two months after a Dallas coffee lover set a record for spending $54.75 on one drink at Starbucks, a Florida medical student topped him with a concoction that cost three dollars more.

Sameera Raziuddin, 23, ordered a custom frappuccino that included 60 shots of espresso, a trio of flavored syrups (caramel, hazelnut, white mocha), soy milk, vanilla bean powder and a few drizzles (mocha, hazelnut, vanilla), ringing up to a grand total of $57.75.
"Just broke the record for most expensive Starbucks drink at 192oz and $57.75 #Starbucks #FreeDrank #GoldCardRewards," she Tweeted on July 12 with the above photo.
Raziuddin got the idea after Andrew Chifari made headlines with his $54.75 Sexagintuple Vanilla Bean Mocha Frappuccino back in May. After getting the okay from the manager of her local Pembroke Pines' Starbucks, which she uses as her go-to study hall, the student and some baristas created the ginormous beverage.
Since Starbucks' biggest sip is a modest 31 ounces, Raziuddin brought her own 1.5 gallon container, which even had a handy spigot.
When it came time to cough up the bucks, the crafty coffee creator whipped out a "free drink" coupon — and paid nothing.
Word of her feat eventually filtered down to Starbucks which, according to a statement the company sent to Consumerist, isn't too pleased with Raziuddin, calling her drink "excessive and something that we do not encourage."
The statement noted, "We want to ensure our customers receive the highest quality and most delicious tasting food or beverage products from us and we don't believe that this particular beverage choice was reflective of that."
Apparently bring your own drink jug is also a no-no.
"Per our existing policy, beverages larger than Trenta size (31 oz.) cannot be made or served. This includes personal cups that exceed 31 oz (or a Trenta-sized cup). For blended beverages and espresso drinks, those cannot be made or served in sizes larger than a Venti (24 oz cold cup/20 oz hot cup)," read the statement.
Despite the buzz kill, Raziuddin is enjoying every drop — with friends.
She told the Daily Mail, "As a med student, I know better than to try to consume 60 shots of espresso in one sitting."
Bottoms up!
—Nancy Mattia