Celebrate George's First Birthday With Cookies Fit For a Prince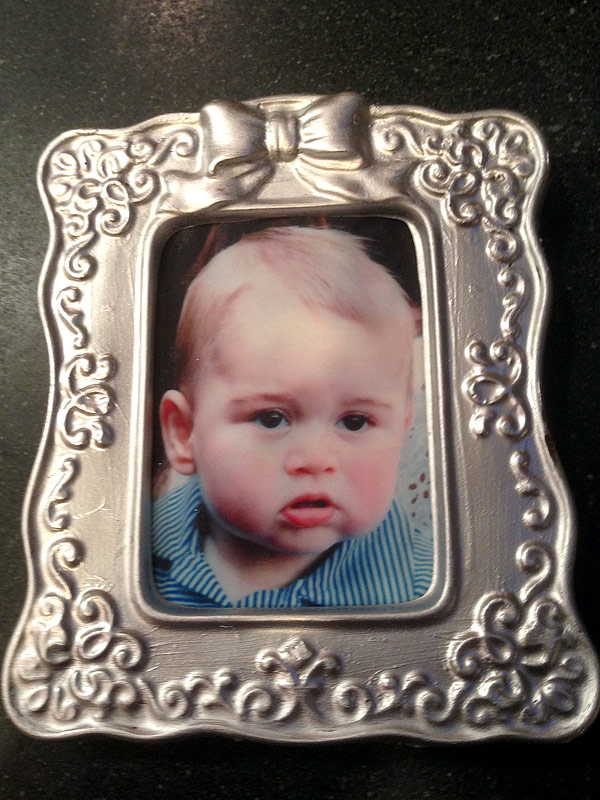 Courtesy Darren McGrady
Few people know the royal family's sweet tooth better than chef Darren McGrady, who worked at Buckingham Palace and Kensington Palace for 15 years before writing Eating Royally: Recipes and Remembrances from a Palace Kitchen.
So what dessert would McGrady dream up to celebrate Prince George's first birthday on July 22?

You're looking at it! Yes, that portrait above is actually a photo-printed cookie in a chocolate frame. It's both a nod to the chocolate biscuit groom's cake at William and Kate's 2011 wedding and a tribute to William's mother, Princess Diana — the late Princess joked that her own son was good enough to munch on.
"I remember Princess Diana coming into the kitchen with William when he was a baby and giving him a squeeze and a kiss and saying, 'Look at him, Darren, he's drop dead gorgeous. I just want to eat him,'" McGrady says.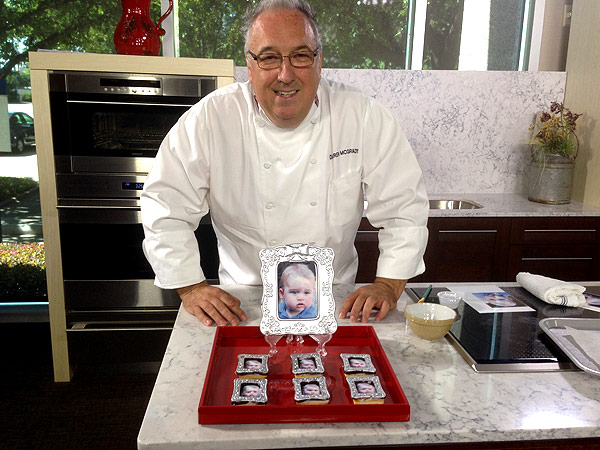 Courtesy Darren McGrady
So, McGrady decided to incorporate a photo of George — who's also cute enough to eat up! — into his celebratory dessert. The photograph is printed onto rice paper with food coloring as ink.
McGrady, who is now based in Dallas, Texas, also gave PEOPLE some insight on the traditional menu at royal birthday parties.
"People think it will be a huge table laid out with people going to town. That pomp and pageantry is saved for Trooping the Colour [the celebration on the Queen's birthday], but [children's] birthday parties are private things. They can have five or six kids. That's what we used to do with William and Harry — they would have a few friends and their cousins like Beatrice and Eugenie."
Tiny jelly sandwiches, including one called the jam penny —  "just bread, butter and jam cut into little two-inch circles, to resemble the old English penny," McGrady says — are a staple. So are mini egg mayonnaise sandwiches. "We would cut them into horse shapes or animal shapes. And we would add berries, like fresh strawberries to the table."
Also on the table: plates of Cadbury's chocolate fingers, "because all kids like those."
McGrady didn't do birthday parties for the princes until they were older than George is today. But he recalls tea parties at the Windsors' Scottish castle of Balmoral, where the kids would dine off Winnie the Pooh plastic plates.
He says Diana, for whom he worked for four years, might nip out down Kensington High Street to buy some helium balloons which she would get butler Paul Burrell to tie to the backs of the guests' chairs.
One story that Prince George won't hear until he's older: When William was 13, Diana, who had a cheeky sense of humor, put on her mischievous hat — and bought him an ice-cream cake in the shape of a woman's bosom. "She told me he was so embarrassed," McGrady says. "The princess used to like that, she used to like to embarrass anyone! But he still said it was one of his favorite birthdays."
We don't know what surprises are in store for Prince George's birthday overseas, but here in the States, we'll be whipping up McGrady's beautiful cookies — which aren't as tough to make as they look. But even if you just bake the cookies without the rice-paper photo and candy mold, they're still a delicious snack. Happy birthday, George!
—Simon Perry
Prince George's Birthday Cookies
1½ sticks butter, softened
1 cup white sugar
2 eggs
½ tsp. vanilla
2½ cups all-purpose flour
1 tsp. baking powder
½ tsp. salt
Rice paper photo sheets and edible ink
8 oz. dark chocolate
Candy frame mold (available at any cake art store)
Silver or gold food paint (optional)
White decorating icing
1. In a large bowl, cream together the butter and sugar until smooth. Beat in the eggs and vanilla. Stir in the flour, baking powder and salt. Cover and chill dough for at least one hour (or overnight).
2. Preheat oven to 350 degrees. On a floured surface, roll out dough to ½-inch thickness. Cut into rectangles approximately the size of your photograph. Place cookies one inch apart on cookie sheets lined with parchment paper. Bake until light brown, about 10 minutes. Cool completely before frosting.
3. To print photo, load an ink-jet printer (you need one that has never been loaded with regular ink, to prevent contamination) with edible ink and print onto rice paper. You can also order custom edible photographs here.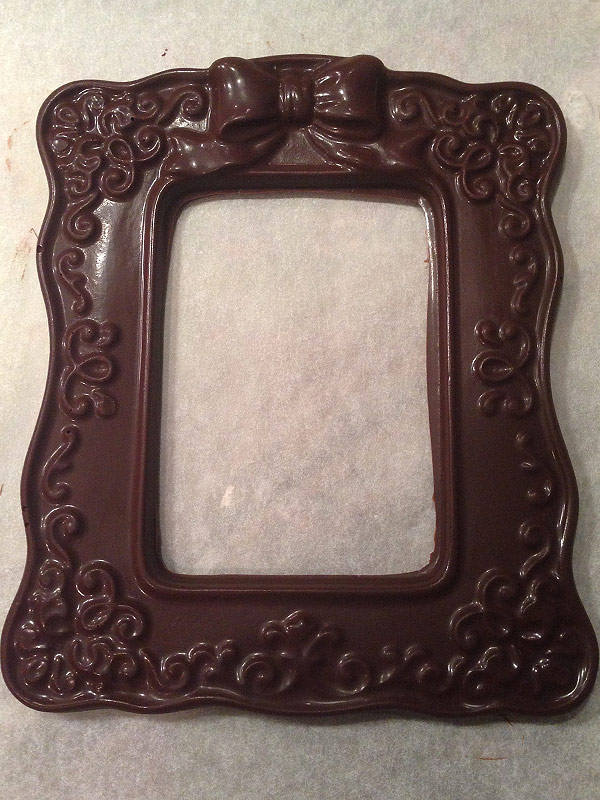 Courtesy Darren McGrady
4. Melt chocolate over a double-boiler or in microwave (being careful not to burn) and pour into the mold. Refrigerate until set. Turn out each chocolate frame and paint with silver or gold food coloring paint.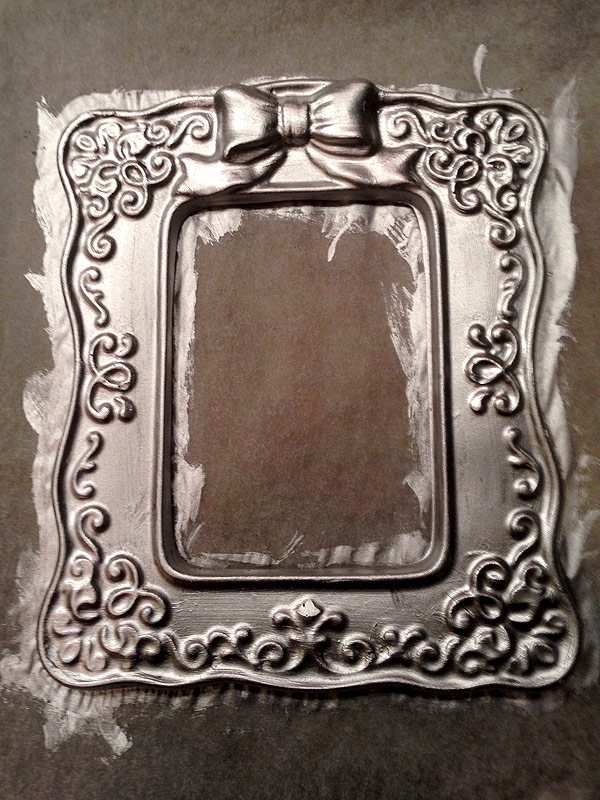 Courtesy Darren McGrady
5. To assemble, frost the cookie, place the photo on top of the frosting and set the chocolate frame carefully on top. Allow to set completely before transporting or eating.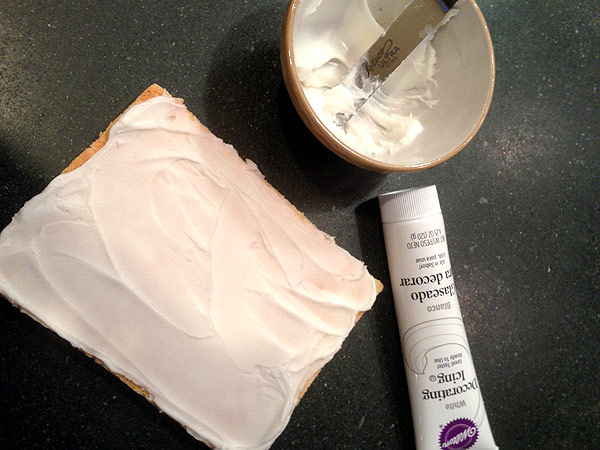 Courtesy Darren McGrady