Hungry Girl: Healthy Snacks to Eat While Watching TV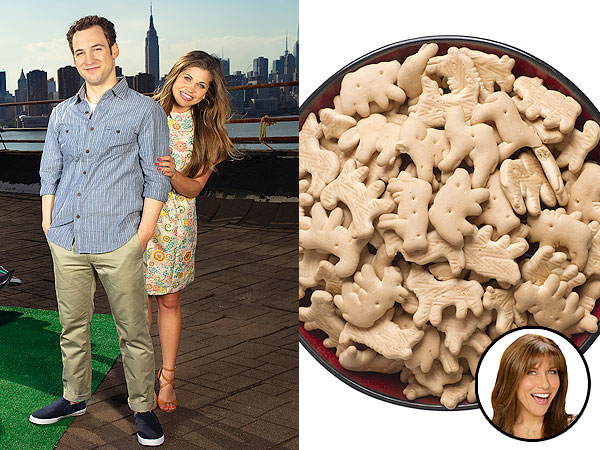 Left: Michael Lavine; Right: Getty
Lisa Lillien is the author of the popular Hungry Girl website and email newsletter, featuring smart, funny advice on guilt-free eating. She is also the author of nine books, six of which debuted at number one on the New York Times Best Sellers list. Read her PEOPLE.com blog every Monday for slimmed-down celebrity recipes and more.

Summer isn't all about the box-office blockbusters — hot new shows are hitting the small screen, too! I've got suggestions on what to view and chew while you take in these TV newbies:
To View: Welcome to Sweden on NBC
Based on lead actor/writer Greg Poehler's experiences following his then-girlfriend to Sweden, this show first aired overseas and just premiered in the States a couple of weeks ago. "Poehler?" Yup, he's the little brother of Parks & Recreation star Amy Poehler. Sounds like funny runs in the family!
To Chew: Hungry Girl's Saucy Swedish Meatballs
Serve these tender meatballs with toothpicks for easy snacking. They're way lower in fat than conventional meatballs, even when covered in the addictively good gravy.
To View: Girl Meets World on The Disney Channel
For anyone who ever wondered what happened to Cory and Topanga from the long-running Boy Meets World, this series chronicles the two grown-up sweethearts and their daughter, Riley. Yes, Ben Savage is back. Yes, Danielle Fishel (along with her incredible hair) is back. So fun!
To Chew: '90s-Style Snacks
The 1990s had it going on when it came to snack food! Miss DunkAroos? Dip some animal crackers (I like Barbara's Snackimals) into a 60-calorie chocolate pudding for a close approximation. Kudos bars were more your thing? They're not as candy-bar like as they used to be, but they're still on shelves and still pretty yummy, especially at just 100 calories each!
To View: The Hotwives of Orlando on Hulu
Parody alert! This is not another reality series, but a spoof on the genre featuring Casey Wilson (Happy Endings, SNL), Angela Kinsey (The Office), and Kristen Schaal (30 Rock, Flight of the Conchords).
To Chew: Low-Calorie Mojitos
Okay, this is sipping, not chewing. But for a show set in Florida, it's gotta be mojitos, right? I've got a few recipes for you. Try these frozen Watermelon Frojitos — the pink drinks go with the Hotwives' color scheme.
To View: The Leftovers on HBO
The intense new series focuses on those left in a suburban town after the Rapture. Whoa. The show boasts some major names, like Liv Tyler, Amy Brenneman, and Justin Theroux. Judging from the posters where Theroux is punching a wall, I'm guessing… they're not happy to have been left?
To Chew: Leftovers!
Sorry, I couldn't help it! The show's serious, but good eats will lighten the tension. Here are a whole bunch of great recipes you can make ahead of time and eat reheated or chilled.
'Til next time… Chew (and view) the right thing!