Harley Pasternak: 2 Inspiring Women Who Prove Beauty is More Than Skin Deep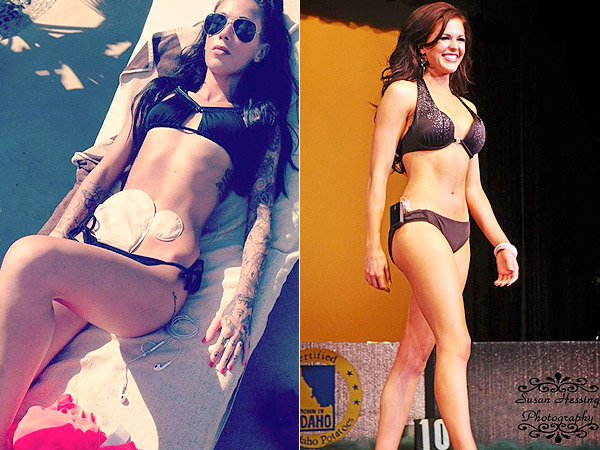 Courtesy of Bethany Townsend; Susan Hessing Photog
Harley Pasternak is a celebrity trainer and nutrition expert who has worked with stars from Halle Berry and Lady Gaga to Robert Pattinson and Robert Downey Jr. He's also a New York Times best-selling author, with titles including The Body Reset Diet and The 5-Factor Diet. Tweet him @harleypasternak.

Some people might think I have a dream job. I live in L.A., the stomping ground of "Beautiful People," and get to work with actors and actresses, models, and movers and shakers in the entertainment industry. Many of my clients have been blessed with beauty and seemingly "perfect" bodies many of us would kill for — metaphorically, of course.
All too often the assumption is that BPs are automatically superficial and self-centered. I'd like to introduce you to two women who not only disprove this cliché, but are also changing our conceptions of physical beauty. And by doing so, they're helping thousands of other people who have felt scorned, ignored or misunderstood feel better about themselves — and also down right proud.
First up is Bethany Townsend, a British make-up artist who hopes to become an actress. Yes, she's beautiful and fit, but most importantly, she's brave. Bethany has Crohn's disease, a debilitating illness of the digestive tract. A few days ago she posted a photo on Facebook of herself sunbathing beside a pool in a bikini. "OK," you're saying to yourself. "What's the big deal? Pictures of beautiful aspiring actresses vamping on Facebook are nothing new." Well, this young woman boldly posed with her colostomy bag front and center. Within days more than 200,000 people "liked" her post.
After a series of medical crises, unsuccessful treatments, and surgeries in her youth, Bethany was told by her doctors that she'd need the colostomy bag. At first she felt it controlled her life, but on a Mexican vacation, she decided to show she wasn't going to be ashamed any more, even as she awaits a cure. By sharing her personal misfortune along with her can-do attitude, one pretty young woman has raised awareness of this devastating disease, which plagues more than 1.4 million Americans. She has also given those who suffer from the same condition a sense of pride.
The reality is that no one is perfect. If they were, I'd be out of business as a fitness trainer and nutritionist! It's all too easy to think those BPs are perfect, but we're all flawed in one way or another — and those "flaws" can actually make you more beautiful. So let me introduce you to another stunning role model, and another woman willing to share her not-so perfect reality with the world.
Sierra Sandison was recently crowned Miss Idaho. During the swimsuit portion of the competition she decided to wear her insulin pump clipped to her bikini. After being crowned, she posted pictures of herself on Facebook and wrote about having type 1 diabetes, an autoimmune disease. Sierra has already inspired others with the disease to feel less self conscious about wearing a pump. But let's hear it from her.
That night, Sierra wrote on Facebook, "When I was diagnosed . . . I was terrified of basically being hooked to a machine for the rest of my life. What would people think? Girls on the covers of magazines and in movies don't have those; therefore, they must somehow detract from how beautiful people see me as. At least, that's how I felt. Soon after, I heard that Nicole Johnson, Miss America 1999, also a type 1 diabetic, had worn her insulin pump on stage while competing at Miss America! What?? Maybe you can be beautiful with a pump!"
You can, as both these courageous women have made clear. Sierra's story hits close to home. Both my brothers have type 1 diabetes, and my family has established Diabetes Hope Foundation to help children with the disease cope with the emotional and financial burdens of living with the disease until there is a cure. While they wait, I hope that more people with inner beauty speak out about their beautiful — and inspiring — imperfections.