The Curious Case of the Ice Cream Sandwich That Doesn't Melt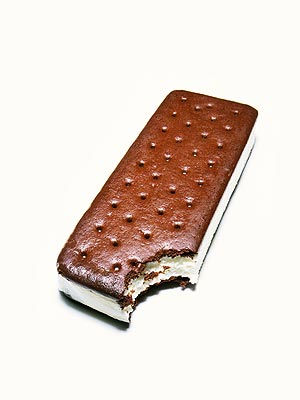 Brian Hagiwara/Getty
Some things in life you just don't question. The sky is blue. The sun is in the sky. Ice cream turns into a puddle if left under said sun in said blue sky.

Why, then, did a Walmart Great Value brand ice cream sandwich barely melt after 12 hours on a patio in 80-degree sunshine? That's what Cincinnati-area resident Christine Watson wondered when she found the still-solid frosty treat that her son had left outside, reports TV station WCPO.
The short story: Because Walmart's ice cream sandwiches are low in buttermilk, butterfat and cream (the dairy ingredients that melt), instead opting for corn syrup, guar gum and cellulose gum to build what approximates ice cream, they are apparently superhuman and immune to the feeble powers of the sun, the largest object in our solar system.
They are also $3 a dozen instead of about that for a cup at a Haagen Dazs, and FDA-approved. So, if you're heading out for a day at the beach, this could be your chance to try the melt test for yourself.
Or, just opt for a frozen cocktail sorbet and call it a day.