Justin Timberlake Reunites With 'NSYNC Bandmate for Beers & Bowling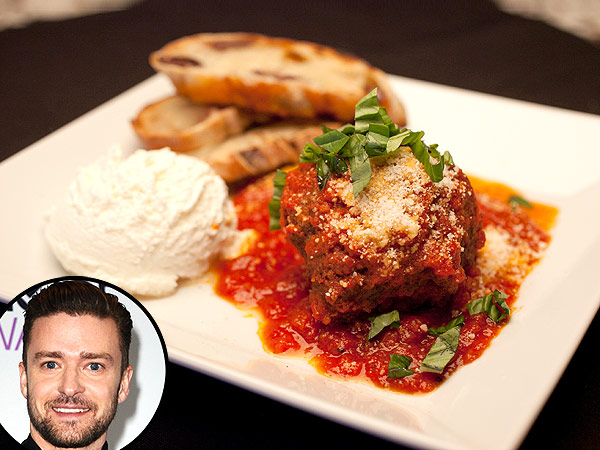 Michael Blanchard; Inset: Jason LaVeris/FilmMagic
Can we eat with Justin Timberlake next time he's in Boston? The singer feasted on everything from meatballs and buffalo wontons to cannoli and peanut butter ice cream during his stay in Beantown — and chased it all with a beer and four games of bowling with his former 'NSYNC bandmate Chris Kirkpatrick.

The "Suit and Tie" singer, who was in town for his concert at Boston's TD Garden, stopped at Italian favorite Strega Waterfront on Sunday for a meal with pals.
Staffers say Timberlake was in love with Strega's homemade meatballs, which is the owner's mother's recipe. But he didn't stop there, also ordering scallops al Grand Marnier, lamb chops and homemade cannoli.
"Justin was easy going and super friendly," his server tells PEOPLE. "A regular guy who likes to have dinner with his friends." Timberlake also posed for photos with Strega's owner, Nick Varano.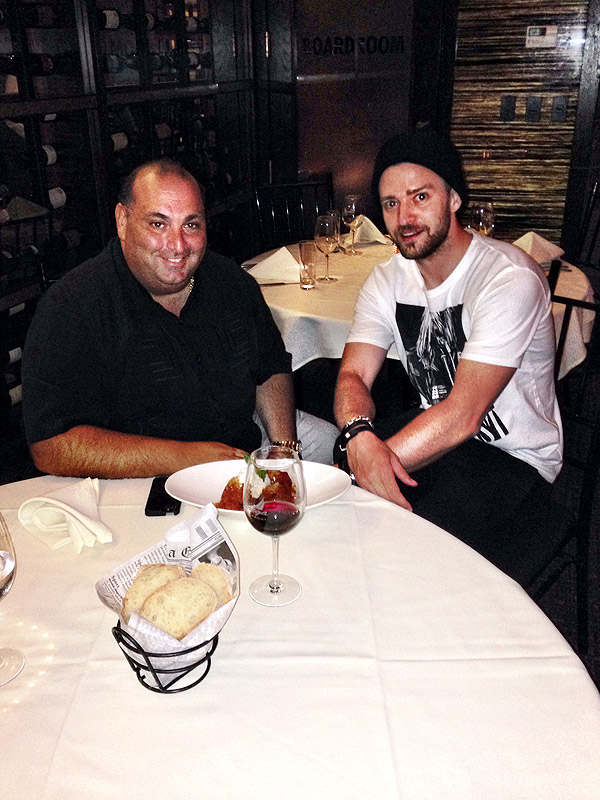 Courtesy Strega Waterfront
On Thursday night, Timberlake visited bowling lounge Kings in the Back Bay neighborhood, where he and Kirkpatrick bowled a few games with friends.
"Justin bowled a 173, 142, 94 and 14," said one Kings employee (not a typo; he must have quit trying), who added that Timberlake sat back and relaxed with a blackened chicken sandwich, buffalo wontons and a Stella Artois beer. For dessert? A peanut butter sundae.
The group, which included Kirkpatrick and his wife, a couple bodyguards and a few friends, stayed at Kings for a few hours. And Timberlake didn't take off without leaving his mark — he made sure to sign a pin before heading out the door.
Get a taste of his Boston feast with this family recipe for Strega Waterfront's meatballs:
Strega Waterfront's Mama Rosetta's Meatballs
Makes 12 
2 tbsp. extra virgin olive oil
2 tbsp. chopped shallots
6 oz. mushroom
1 tbsp. chopped thyme
1 lb. ground veal
1 lb. ground beef
4 oz. white bread (soaked in milk and drained)
3 tbsp. chopped parsley
3 eggs
5 tbsp. grated parmigiano, divided
1 cup bread crumbs
3 cups frying oil
Salt and pepper, to taste
1 jar marinara sauce (recommended: Strega sauce)
1. Heat a frying pan over medium-high heat. Add the extra virgin olive oil and shallots, cooking until shallots are brown. Add the mushrooms and thyme and cook until the water from the mushrooms has dried up. Grind the mixture in a food processor.
2. In a large bowl, combine the ground veal, ground beef, bread, parsley, eggs, most of the cheese and the ground mushroom mixture, adding the bread crumbs gradually until the mixture is thick enough to form a ball. Wet your hands with water and form into 12 meatballs.
3. In a frying pan over medium-high heat, heat the frying oil and brown each side of each meatball. Put meatballs in a square, deep tray and cover with sauce.
4. Bake at 425 degrees for 55 minutes. Sprinkle with remaining cheese, salt and pepper. Serve immediately.
—Megan Johnson