This Toaster Will Singe Selfies On Your Bread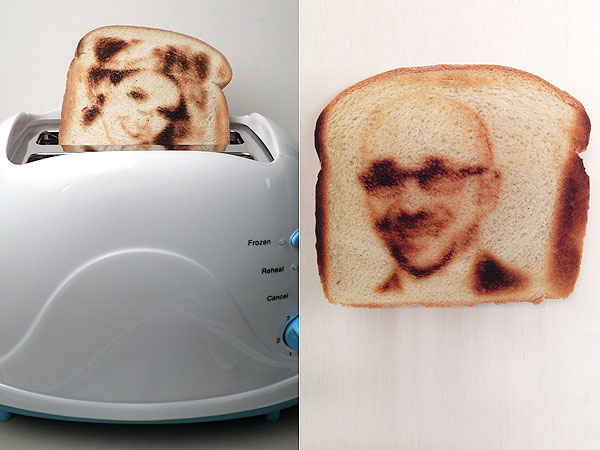 Courtesy Galen Lively
An inventor from Vermont is making mornings more meta.

Galen Lively, president and founder of the Vermont Novelty Toaster Corporation, is selling custom-built toasters that can brown the image or text (Keep Calm and Eat Toast, perhaps?) of your choosing onto bread.
A custom toaster costs $75, takes 10 days to create by a team of "toast engineers" and comes with a color decal of your photograph displayed on the front.
"We haven't gotten any inappropriate orders—yet," says Lively, who has been in the toasted logo business for several years. Along with the Jesus toaster, which according to Investor Place was the 32nd top-selling toaster on Amazon, the company currently sells appliances that create images of the Virgin Mary, the poet Edgar Allan Poe and a peace sign.
Along with individual portraits and pets ("I am still stumped on getting long-haired cats just right," he said), Lively has seen a high volume of wedding-related requests. Though it isn't yet featured on his site, Lively has the capability to create a machine that toasts an image onto each side of a piece of bread. (So you and your spouse-to-be can share double billing on one slice, get it?)
"A regular toaster is already sort of a novelty wedding gift but the selfie element makes it the ultimate novelty gift," Lively tells PEOPLE. One father is even planning to give a bride-and-groom–branded toaster 15 minutes of real-life fame. "He's bringing the toaster to his daughter's wedding and using it as a prop during his actual toast."
—Lexi Dwyer