Alie & Georgia: Easy Homemade Pita Chips to Crush Late-Night Cravings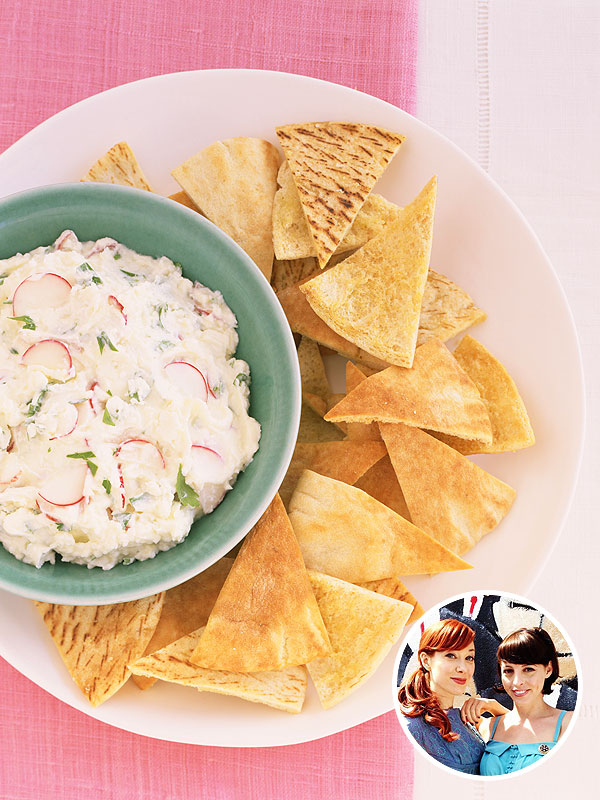 Lisa Hubbard/Getty; Inset: Courtesy Alie & Georgia
Alie Ward and Georgia Hardstark, a.k.a. Alie & Georgia, host Cooking Channel food-travel series Tripping Out with Alie & Georgia. Visit PEOPLE.com every Thursday for their playful spins on celebrity recipes, cocktails, entertaining ideas—and, of course, lots of laughs!

We love a perfectly stuffed, pillowy, healthy pita sandwich on a hot day. What we don't love is being stuck with 7 out of 8 pieces of pita bread after we've satisfied our pita sandwich craving.
What to do with leftover pita bread, you ask? How about turning it into satisfyingly crunchy pita chips? This is our new easy go-to late-night snack, and we swear it'll be yours, too. You can even spice the chips with cinnamon and sugar when you're craving sweet along with the crunch.
To pair, grab your favorite dip, whether it's veggie dip, hummus or our favorite, a homemade honey Greek yogurt (just mix 1 cup vanilla Greek yogurt with 2 tbsp. honey and ¼ tsp. cinnamon). Now go crunch so loudly that you wake up your neighbors.
Alie & Georgia's Crunch 'n' Munch Pita Chips
Makes 16 chips
2 tbsp. salted butter, melted
2 tbsp. sugar, optional
1 tsp. ground cinnamon, optional
2 pita pockets
1. Preheat oven to 350 degrees. If using sugar and cinnamon, mix into melted butter. Spread butter on both sides of pita pockets.
2. Cut pita pockets into 8 triangles each, then spread over a cookie sheet and bake for 11-13 minutes, until crisp.