Bill Murray Surprises Host of the 'Bill Murray Ice Cream Social' By Actually Showing Up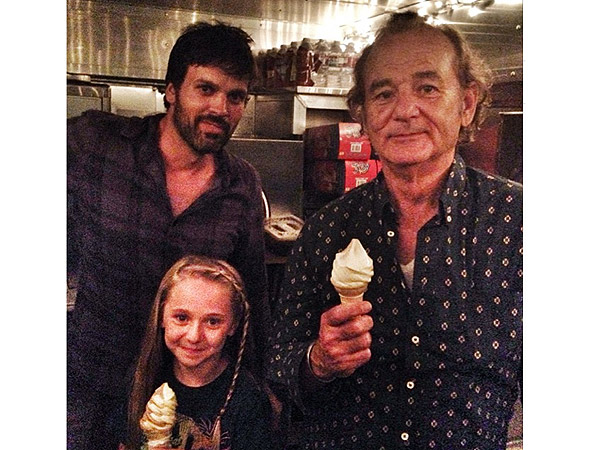 Courtesy CVT Soft Serve
We can all learn a life lesson from Joe Nicchi, owner of CVT Soft Serve in Los Angeles: If you want something, it never hurts to ask.

When the ice-cream maker (and aspiring actor) heard that his idol Bill Murray was filming the upcoming movie Rock the Kasbah on his block, he hatched a plan: He'd park his vintage-style truck near the set, announce that he was hosting a "Bill Murray Ice Cream Social" (with free ice cream!) and maybe, just maybe, the Lost in Translation star would pop by for a cone.
Turns out if you serve it — and "it" happens to be a cold, sweet treat — Bill Murray will come.
"Word got out, people from the crew and the neighborhood were wandering over and eventually [Murray] came by," Nicchi tells PEOPLE. "He asked me what I recommended and I said a [chocolate and vanilla] twist with sea salt," he added.
It sounds like the actor was a fan of the CVT (which stands for Chocolate, Vanilla, Twist) formula: "He was so complimentary, he even tried to pay me but I refused to take money from him. I said, 'I just wanted to meet you, you're my inspiration,' and he was so receptive and so nice," Nicchi says. According to him, Murray came by with one of his brothers and even suggested that ice cream be brought to crew members who were too busy to leave the set.
We can't say we're shocked that Murray was game to stop by. Unless you've been living off the grid, you already know that the actor seems to have a side job making random people happy with unexpected visits. Showing up in a couple's engagement photos, giving a speech at a bachelor party and playing kickball in a public park are just a few examples of his regular-guy antics.
As for Nicchi, he's hobnobbed with a few other celebs before this. Courteney Cox has also stopped by for ice cream and Tweeted her praise. And in June, Halle Berry brought the CVT truck to the set of Extant in as a Father's Day treat for the cast and crew:
We had one final question for Nicchi: Who's the little girl in the shot? Turns out it's Murray's Rock the Kasbah co-star Avery Phillips, who, like every other kid in the world, couldn't resist the siren call of free ice cream. "She photobombed my Bill Murray moment," Nicchi says, laughing.
—Lexi Dwyer