Better Than Duff Beer: Homer and Marge Simpson-Themed Wine Bottles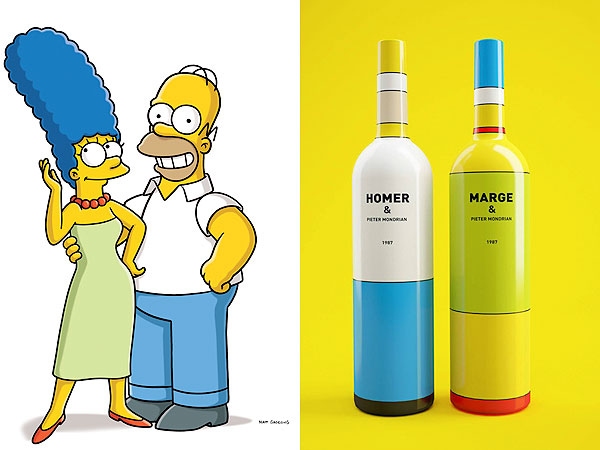 Left: THE SIMPSONS ™ and ©2013 TCFFC ALL RIGHTS RESERVED; Right: Courtesy Facebook
Homer may be more of a beer dude, but the famously funny cartoon dad, along with his better half, Marge, is currently the inspiration behind a pair of chichi-mod wine bottles.

The bottles, shown above, were created by Russian designer Constantin Bolimond and featured on Behance, a social site for designers. Done in the style of Dutch painter Pieter Mondriaan, the color blocks clearly represent the characters wearing their usual outfits, down to Marge's red shoes. And the label teases to wine that has been aging since 1987, the year The Simpsons premiered on The Tracey Ullman Show.
There's no question that these bottles are awesome. But there is one big — and ambiguous — question: Are they real and can we buy them? Please?
Unfortunately, that's a bigger mystery than who shot Mr. Burns (because, of course, that one was eventually solved). The site has no information about pricing or availability, and at press time, Bolimond hasn't responded to our request to buy as many bottles as we can fit in our fridge. Here's his somewhat enigmatic statement, which appears on both the label and his Tumblr:
The drink was brought to life together with the cartoon characters in 1987. May be it is wine, may be not. We are inviting you to find out yourselves. The contents have been kept secret for already 26 years now. While the ingredients remain the same, their proportions differ from time to time. That is why you will never get bored from this drink! We can assure you that you will not be left disappointed … The design is inspired by the works of Pieter Mondriaan.
Can he really assure we won't be left disappointed, which is exactly what will happen if we can't snag these wine bottles to display alongside our Homer Beer vs. Donut clock? We're skeptical: The Drinks Business reported that 20th Century Fox has been notoriously protective over the Simpsons brand, even forcing a Colombian company that produced Duff beer to change its name to "DuH" beer. (This is why you need to check out Bolimond's Facebook gallery before he's threatened with a lawsuit.)
But we'll stop speculating for now and raise a glass to Bolimond for his elegantly executed idea. One of Homer's famous toasts seems appropriate: "Here's to alcohol: the cause of, and solution to, all of life's problems."
—Lexi Dwyer