Jennifer Lopez's Birthday Cake Features Life-Size Jennifer Lopez Riding a Lion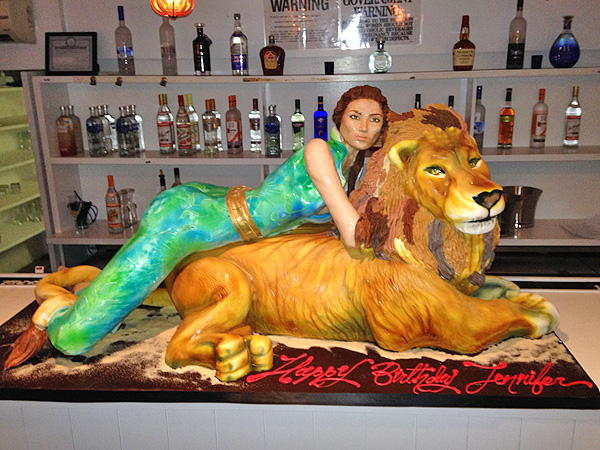 Courtesy SamiCakes Boutique
We're calling it: Jennifer Lopez's birthday cake is the wildest dessert of the year. (Maybe the wildest dessert ever.)

The confection, which stretched almost five feet long and was served at a star-studded bash in Southampton, New York, featured Lopez in her infamous green Versace dress cozying up to a lion — fitting for the Leo, who turned 45 on July 24.
Owner Samantha Brooks of SamiCakes Boutique pulled together the cake in less than two days, creating the lifelike elements out of coconut-cream-filled lemon cake covered in fondant and modeling chocolate.
Lopez's party planner contacted Brooks with the idea of incorporating a lion into the cake, and the baker produced six sketches before they settled on this version — which won out over cake-Lopez straddling the lion or crossing her legs over the beast.
About 60 people were on the guest list for the party at Mediterranean restaurant Nammos, according to a source, including Khloé Kardashian and her boyfriend French Montana, Rachel Zoe and Rodger Berman, Kelly Ripa and Mark Consuelos, Brian Atwood, Fat Joe, Russell Simmons, Andy Cohen, Scott Disick and Lopez's mother, Guadalupe Rodriguez, her sister, Lynda, and her longtime manager, Benny Medina.
Brooks says she bought tulle and airbrushed a replica of the Versace dress to use as a model for the cake, which was hand-painted. "I'm literally outside in the dark spray painting tulle to replicate Versace."
But the work was well worth it: "Apparently [Lopez] said it was delicious!" Brooks says. "She loved it."
—Marissa Conrad, with reporting by Ana Calderone