Summer in a Bowl: Tim Love's Corn & Black Bean Salsa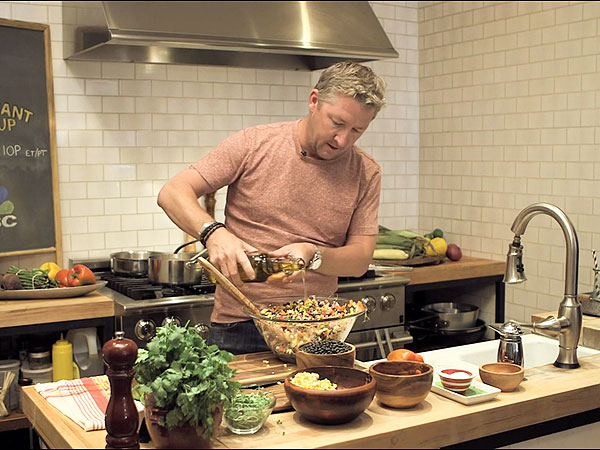 When you think about your favorite summertime food, fresh corn is probably one of your top picks. (So is ice cream, but we eat that year-round!)

The yellow veggie is also near and dear to the heart of Tim Love, the chef and star of CBNC's Restaurant Startup, who calls his roasted corn and black bean salsa "one of my favorite things to make in the summer."
In this exclusive cooking demo for PEOPLE, Love shows how to whip up this easy and colorful dish, which he suggests serving with grilled fish or tortilla chips, or as a side salad.
First up is cooking a big pot of black beans (or use canned beans to save time), then roasting several ears of corn and peeling off the husks. Better yet, let your kids use their muscles.
"I always make my kids shuck all the corn," Love admits. "I did as a kid, they've got to do it when they're kids."
Next is throwing the beans and the corn you've cut off each cob into a big bowl, along with red peppers, red onion, cilantro and lime juice. And don't forget to add olive oil.
"It's the key to the whole salsa," the chef says. "It marries all the flavors together."
Love calls the dish his "cowboy caviar." But no matter what you call it, we think it'll be a hit.
Get the full recipe in the August 4 issue of PEOPLE, on sale now.
—Nancy Mattia