Jeff Koons Designs Split-Flavor Margarita to Match His 'Split Rocker' Sculpture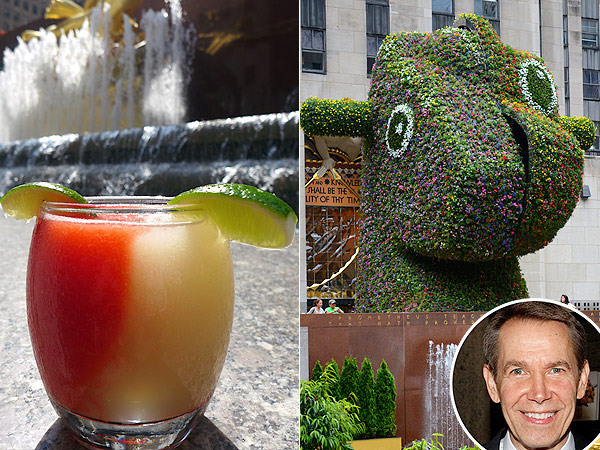 Right: Derek Storm/Splash News Online; Inset: Mireya Acie
Drinking is the finest art we know, and Jeff Koons is one of the finest artists we know* — so a cocktail modeled after one of his most famous works just makes sense.
Especially when that cocktail was dreamed up by Koons himself.
Introducing the Split-Rocker Margarita, a half-lime, half-strawberry drink you can sip outdoors at N.Y.C.'s Rock Center Cafe while gazing at the real "Split Rocker": Koons' flowering topiary that's half toy rocking horse and half toy dinosaur, at Rockefeller Center through September 12.
The dual-flavor drink — conceived by Koons and executed by chef Antonio Prontelli — is as bright as the marigolds, petunias, begonias and geraniums sprouting from "Split Rocker", and the limes on the rim of the glass even mimic the toy-handle "ears" coming out of the masterpiece. And yes, the drink is frozen for perfect summer sipping.
Plus, this artwork is worthy of a toast: The 150-ton, 37-foot sculpture has only ever been on display three times before this, and only in Europe. So stir up Prontelli's recipe and raise a glass!
*Okay, we don't know-know Jeff Koons — yet. Jeff, if you want to grab a margarita, it's on us.
The Split-Rocker Margarita
Makes 4
8 oz. (1 cup) silver tequila
4 oz. (½ cup) orange liqueur, such as Triple Sec
Juice from 8 limes
2 oz. (¼ cup) simple syrup
4 cups ice
½ pint fresh strawberries, stems removed
Lime wedges, for garnish
1. In pitcher, combine tequila, orange liqueur, lime juice and simple syrup.
2. Pour tequila mixture over ice in blender carafe. Blend on the highest setting, scraping down sides as necessary until the mixture is smooth.
3. Pour out half of the blended margaritas from the carafe into a pitcher and reserve in your freezer while you complete the drink.
4. Add the strawberries to the remaining blended margaritas in the carafe and blend until smooth.
5. With the carafe in one hand and the reserved pitcher in the other, simultaneously pour both the lime and strawberry margaritas into the serving glasses, to create the vertical split.
6. Serve immediately, garnished with one lime wedge on either side of the glass.