Alie & Georgia: How to Throw a Surprise Party Without Blowing It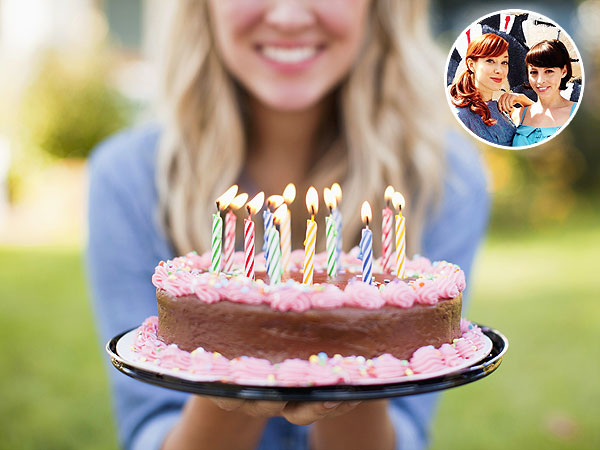 Jessica Peterson/Getty; Inset: Courtesy Alie & Georgia
Alie Ward and Georgia Hardstark, a.k.a. Alie & Georgia, host Cooking Channel food-travel series Tripping Out with Alie & Georgia. Visit PEOPLE.com every Thursday for their playful spins on celebrity recipes, cocktails, entertaining ideas—and, of course, lots of laughs!

As entertaining experts and cocktail connoisseurs, we'll find any excuse to round up friends, but our favorite scenario involves jumping out from behind a couch or a planter or the bushes and shocking our loved ones with a party that they didn't have to plan at all. We even made a TV special about it called "Surprise Party with Alie & Georgia," which is airing now on the Cooking Channel!
Here our our top 5 tips for throwing a surprise soiree for a friend, loved one, parole officer, whomever. Because really, everyone deserves a party sometime.
Lay the Groundwork
The first rule of Surprise Party is that you do not talk about Surprise Party. To the guest of honor, at least.
The best way to make sure that your subject will be available on the day that you show them love/almost give them a heart attack is to make fake plans with that person so the obligation stands. Maybe invite him/her to a "small birthday dinner with a few friends" or say that you booked a "let's go to the spa together" day or get his/her significant other to pretend to have tickets to something (note: not something so awesome said person will be disappointed when it doesn't actually happen). This tactic involves lying, which might be the only time it's okay/fun to lie to the people you love the most!
Don't Act Weird
We can't stress enough how important it is that you don't act weird. No, "Well, I have nothing planned for your birthday!" remarks. No, "Well, this retirement will probably be uneventful for you!"
Also, if the party is a person's actual birthday, don't ignore him/her on that day in an effort to play it cool about the party later that night. Georgia threw an amazingly thoughtful and hilarious surprise party for Alie this past year but everyone was so intent on keeping the night's soiree under wraps that Alie spent most of her birthday day crying alone wondering why none of her friends were asking if she had birthday plans. Little did she know they were all hatching strategies to hide out in the bushes later that night and jump out with streamers. (Yes, she started bawling with joy.)
So, our overarching advice: Act normal. Don't play it too cool, but don't let the cat out of the bag. If you're inviting a bunch of guests by email, you also might want to change the name of the email chain to something like "Grocery Coupons" (except maybe something more interesting than that, so people actually open it) instead of "BIG SURPRISE PARTY" just in case an email pops up on your smartphone or computer in the presence of the guest of honor and you suffer a party-induced panic attack.
Throw the Party at Someone's House
It's harder to pull off an epic surprise at a bar — unless you can convince the bartender to turn off all the lights and convince all of the other patrons to hide and pop out with you, in which case, great job. We've found a private residence works better for these things. You can sneak a bunch of people into a house and have them lie in wait while still being comfortable. Just make sure to have some snacks and drinks ready to tide them over while the co-conspirator brings the guest of honor to you, and make sure that everyone gets there plenty early. If guests are driving, tell them to park around the corner.
For "Surprise Party with Alie & Georgia," we staged a fake protest in the street out front of the party house, with "picket" signs that were turned around to reveal "HAPPY BIRTHDAY." Yep, the surprisee started crying. Yep, so did we.
Get the Guest of Honor's Favorite Foods
A week or two before the party, confer with other friends to come up with a list of your subject's favorite foods and drinks. Does she love wine spritzers? Adore popcorn? Is she crazy for Thai food? Peanut butter? Theme your party foods around their favorites and don't worry if it's not a congruent collection of cuisine. It's more fun to have a bounty of the subject's various favorites and watch her discover — dish by dish — how much thought you all put into it. And we recommend making any cocktails as a batch so that you can enjoy the party and not spend the entire time in the kitchen fixing drinks.
Plan Party Games
Depending on the size of the party, it's always a good idea to have a few games planned. If it's an intimate dinner party, have Taboo or Cards Against Humanity on hand, or engage in a rousing game of Celebrity after dinner. Another great party activity for birthdays is to set out a big empty bowl and some notecards, and have party-goers write what they adore most about the guest of honor. Getting a stack of handwritten affection on your birthday might be the best gift ever — apart from the shock of your friends jumping out of the bushes in front of a building.